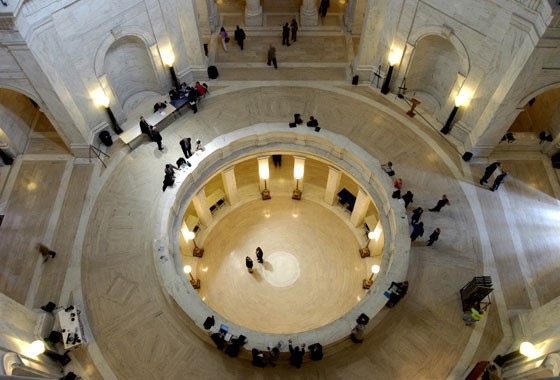 From The Well
June 15, 2022
June Interim Meetings
,
At the center of the West Virginia state Capitol is an area known as The Well.
It is the informal gathering place for lobbyists, reporters, constituents and lawmakers.
Centrally situated between the chambers of the House of Delegates and Senate,
The Well is where information is often shared, alliances are formed, and deals are made.
Committee hears about lack of providers
The interim committee on Children and Families heard from several individuals about recruiting and retaining foster parents.
Christy Beaver, a foster parent and Foster Support Coordinator for the SafeHaven Campaign, said it is important to treat foster parents as professionals and ensure everyone understands policies. She noted the availability of child care is a significant barrier to recruiting foster parents. She suggested an increased emphasis on respite programs and after-school programs would help increase the number of foster families.
Several presenters voiced concerns that they were ineligible to be foster families because of a current regulation that requires children of foster parents to be immunized. Theresa Kicher, Janel Befard, and Hannah Keith explained they have chosen not to vaccinate or fully immunize their children for religious and other reasons. As a result, they said, the state will not consider them for foster placement despite their desire to provide foster services.
Angie Hamilton-Thomas, Executive Director of Pressley Ridge, provided the viewpoint of the West Virginia Child Case Association, which includes 17 child-care organizations. She offered statistics on state demographics that create challenges for recruiting foster families.
Based on data gathered by her association, Ms. Hamilton-Thomas said recruitment efforts should be targeted because of limited resources. She advocated for continuing a full range of services for foster families and the children they serve. She also recognized that accountability is necessary. She recommended that recruitment efforts be grassroots campaigns in targeted communities rather than statewide efforts and that current foster parents be considered "professional change agents" to recognize their importance in developing children in their care.
Finally, Jeff Pack, Commissioner for Bureau for Social Services, responded to questions from the committee. He said foster children are eligible for charter schools under certain circumstances, but the primary effort must be to allow a child to remain in the school where he or she is enrolled.
Much of the discussion focused on current clothing-voucher requirements. Senator Stephen Baldwin of Greenbrier County asked about the limitation on vouchers, specifically that vouchers cannot be used at Walmart, which is the most convenient shopping location for his constituents.
Commissioner Pack explained that while paper vouchers are limited to JCPenney and Gabriel stores, the department has provided families with the option of using Apple Pay and Google Pay at other clothing stores. He also indicated the department would reimburse families for purchases they make on their own, or department workers can make purchases with state P-Cards.
During the meeting, Senator Baldwin was advised that Walmart does not accept Apple Pay or Google Pay. The commissioner was unaware of that but reminded the committee that other options exist, including the department's workers purchasing necessary clothing with state P-Cards.
The Commissioner was asked other questions regarding the availability of car seats, procedures related to obtaining infant formula, and requirements for kinship care. He also was asked to provide the committee with information on the number of families denied foster-care certification, the number of families willing to be foster parents, and the number of families currently needed.
Click here for news coverage from WSAZ.
Lawmakers learn about safety measures
In an unusual general session during the interim session, the Legislature held a discussion Tuesday on school safety plans and best practices.
Rob Cunningham, Deputy Secretary, Department of Homeland Security, said that as a former law enforcement officer and a current school board member and employee of DHS, he is uniquely qualified to work on school safety plans. He noted West Virginia does have a plan, but schools cannot be fully fortified.
"We have to find a balance," he said, adding that he is reviewing what has worked throughout the country.
Mass shooters almost always have told at least one person about their plans, and about half have told two people, Mr. Cunningham said, adding that less than half of the people who were told contacted law enforcement. He suggested a universal "app" for reporting threats, noting that telephone calls are antiquated. He said the app must be easy for everyone to report, not just students.
Jonah Adkins, Office of Accountability, Department of Education, presented information about crisis-response plans that are required by statute for such events as active shooters, weather events, and other occurrences. He said an online tool kit is available and includes resources, threat assessments, and training resources. He added that "one caring adult" for each student in the building is an important factor.
The next presentation — Current School Building Projects — came from David Roach, Executive Director of the School Building Authority (SBA).
He said counties have done threat assessments with school access safety, egress and ingress, being the main focus
He said new schools have bollards to stop vehicular traffic, along with design elements that include risk and vulnerability assessments.
Mr. Roach gave an example: Outside doors are labeled with numbers to help law enforcement and administration offices isolate visitors so they cannot enter the main building.
Existing schools have been retrofitted with safety features, such as doors the main office can close with a button. Outside technology, such as cameras, is in use, and windows now have safety glass and numbers.
Mr. Roach estimated $164 million is needed for all schools to have safe egress and ingress.
SBA is putting together a master list of security efforts that individual counties have implemented. The list will be sent to counties so their school leaders can see ideas they can model.
Asked about resource officers, Mr. Cunningham said about 25% of schools have one.
Delegate D. Rolland Jennings of Preston County expressed concern about a reporting app being misused, but Mr. Cunningham said phone calls also can be misused.
Delegate Sean Hornbuckle of Cabell County asked about underlying commonalities or traits that have been identified among school shooters. The FBI and the Secret Service have noted that shooters may have a family member with a serious health problem, non-custodial parents, and communicate a threat before an attack.
In 100% of the cases, Mr. Cunningham said, the shooter had one or more identified social risks, such as being bullied, no mother of father, or having neither parent.
Delegate Kayla Young of Kanawha County asked about active shooter drills and was told the most common training is ALICE (Alert, Lockdown, Inform, Counter, Evacuate) and Run Hide Fight.
Committee to review VFD funding sources
The Joint Committee on Volunteer Fire Departments and Emergency Medical Services heard a presentation Tuesday about SB420, which relates to distribution of taxes and surcharges to benefit volunteer and part-volunteer fire departments.
Committee counsel explained that SB420 passed the Senate last session, but the House Finance Committee did not take it up. He pointed out that it started as a simple bill to correct a code conflict related to distribution of funds that the state Treasurer had requested. In 2022, however, SB513 was incorporated into the bill to increase funding for VFDs.
The bill, as it passed the Senate, would have increased a .55% surcharge to 1% and raised $11.8 million in additional funding that would equal $27,000 per year for the more than 400 VFDs across the state. It passed the Senate unanimously.
Counsel explained the other sources of revenue for VFDs and the options for the committee: The Legislature could do nothing, fix the code conflict only, rerun SB420 with the increased surcharge, or look at other revenue sources and increase those percentages For example, the 1% surcharge currently on fire and casualty insurance has 10% going to the Teachers Retirement System. Counsel said his office could research whether that is still needed and, if not, that amount could go to VFDs.
Senator Mark Maynard of Wayne County wondered whether the amount should be distributed to all VFDs equally or should be based on the number of runs.
Senator Ron Stollings of Boone County added that increasing VFD funding is long overdue.
Delegate Joe Statler of Monongalia County said the House did not have the votes to pass the surcharge and that was why the bill was not advanced from House Finance.
Based on those observations and others, Chairman Dave Sypolt appointed Delegate Statler, Delegate D. Rolland Jennings of Preston County, and Senator Stollings to a subcommittee to work on the legislation.
Emergency Medical Services
Committee hears about aging EMS personnel
Speaking Tuesday to the Joint Committee on Volunteer Fire Departments and Emergency Medical Services, Dr. Cynthia Persily, Vice Chancellor of Health Sciences, West Virginia Higher Education Policy Commission, provided an update on EMS funding.
She said her agency is undertaking a study of the EMS workforce, researching the education pipeline, current supply, and future demand.
"EMS workers are aging out of the profession," she said.
Information about EMS careers will be made available, and a website will be dedicated to training opportunities, she said. The agency also is working with WorkForce WV to increase retention and testing success.
Dr. Persily said mental health first-aid training and a successful evidence-based program to help recognize mental-health problems and give people the help they need are being added.
She said developing EMS leaders is another initiative that is underway.
The University of Charleston has a 15-credit certification program for EMS personnel that can be applied toward a future degree, she said.
"In the first week, 240 EMS personnel applied," she told the committee.
Training is now focusing on geriatric calls because the number of those calls is increasing, she said.
In rural communities, EMS squads are working on behavioral health transport to providers, she said.
The Office of EMS is providing an EMS pack with generic equipment to 4,500 EMS personnel with 1,000 more personnel expected to be added this summer.
Chairman Joe Statler commended Dr. Persily, saying, "This is a good start on a long-term fix."
HCA director presents details about CON
The Joint Committee on Health heard a detailed presentation Tuesday from Barbara Skeen, Executive Director of the Health Care Authority (HCA), on Certificate of Need (CON) standards.
She said CON standards that must be addressed in an application are in statute, noting there are 23 sets of standards. Out of 40 to 50 applications annually, the agency denies only two or three because the preliminary process informs applicants that a project is not feasible.
Ms. Skeen said the components in standards include need, quality, continuum of care, cost, and accessibility. She added the need methodology is quantifiable, and it determines whether a county is open or closed for utilization of a specific service.
The standard of quality includes accreditation, suitability, adequate staff, and patients' rights.
Continuum of care encompasses all potentially needed health care services that will be available to patients. To meet the cost standard, a project must demonstrate financial feasibility, include a three-year projection of revenue and expenses, and address a charity-care policy.
Accessibility includes a provision for patients who cannot pay, as well as access for those who have disabilities
The HCA performs research and analysis to keep standards up to date, she said, and its board must approve standards. The Governor then approves the standards in whole or in part.
The HCA is in the process of reviewing all standards for update and revision and already has identified changes it believes are necessary. The process should be completed by the end of FY2023.
Delegate Vernon Criss of Wood County asked about home-health services, questioning whether people are being neglected if they don't have an in-county provider.
"There are home-health providers for every county," Ms. Skeen responded.
Delegate Amy Summers of Taylor County asked how HCA provides quality if the only provider is rated C, D, or F and no other choice is available, suggesting the situation could be built into the definition of quality.
Chairman Matthew Rohrbach of Cabell County asked who has standing to file a complaint against an application.
Ms. Skeen said "affected persons" are defined in statute and can include a similar service provider, a consumer, and others.
Dr. Amjad makes case for more funding
The Joint Committee on Health on Tuesday discussed smoking and regulations.
Dr. Ayne Amjad, Bureau of Public Health Commissioner and State Health Officer, Bureau for Public Health — Governor's Tobacco Use Prevention and Cessation Task Force, presented information about West Virginia's smoking rates and cessation efforts.
She said West Virginia has the highest rate of adult tobacco use in the country at 47% compared to a 14% national average.
The Quit Line for tobacco cessation needs $5.7 million annually, she said, but in 2017 that amount was reduced to zero. It now is given funding of less than $500,000.
The CDC estimated that West Virginia needs $27.4 million to address cessation, but the agency is requesting $16.5 million primarily to be realistic about how much it might receive.
The funding would address tobacco-use cessation through the Quit Line, offering nicotine replacement and therapy for a cost of $1.65 million.
Dr. Amjad said the Quit Line collects a great deal of data, including age, race, and how many times a person has tried to quit smoking.
Dr. Amjad said Certified Tobacco Treatment Training programs for health care providers need $99,000. Effective Community Outreach needs $5.7 million, particularly for youth community programs. Targeted intervention is needed for pregnant women and youth, she said.
Media intervention is needed at a cost of $3.7 million for West Virginia-focused campaigns. For $16.5 million, Dr. Amjad said her priorities are the Certified Tobacco Treatment Program, the Quit LIne, and targeted community intervention.
She noted the use of e-cigarettes is increasing, especially among youth, and that West Virginians' use of smokeless tobacco overall is second highest in the nation. She said an e-cigarette cartridge has four to five times the nicotine that is in 20 to 30 cigarettes.
Dr. Amjad emphasized e-cigarettes do not help people quit smoking.
Julie Warden, Government Relations Director, American Heart Association, discussed "An Impact on West Virginians — The State of Tobacco and E-Cigarettes." She reiterated the point that e-cigarettes are not cessation devices and not a safe alternative for cigarettes.
In addition to nicotine addiction, smokers experience inhaling fine particles, and the vapor contains carcinogens
"It is not water vapor," she said.
Currently, e-cigarette companies spend about $100 million a year in West Virginia to market e-cigarettes, particularly to youth. She suggested holding retailers accountable and considering a tax increase on e-cigarettes. She pointed out that only $898,161 is budgeted for healthy lifestyle initiatives, split between tobacco use and obesity, two of the state's highest health care concerns.
Committee hears about Oxford House
The Joint Committee on Health ended its two-hour meeting Tuesday with a hearing focused on Oxford House, self-supported addiction recovery facilities.
Emily Catoe, Regional Manager for Oxford House, said it began in Silver Springs, Maryland, for individuals in recovery where peers share responsibility. Each house is autonomous, and Oxford House Inc. has its own certification process.
"Oxford House has been recognized as the only evidence-based recovery house in the United States," she told the committee.
The first Oxford House in West Virginia opened in 2008, and the organization had 37 homes by 2021. It now has 27 homes. She said the homes no longer are getting referrals for people leaving incarceration.
"They are being told that Oxford House is not a place to go," Ms. Catoe said.
She told the committee she is a product of an Oxford House.
"I am a previously incarcerated person," Ms. Catoe said, adding that she now has a master's degree in social work and owns her own home with her husband.
"All this is possible because I had a place to go after incarceration," she concluded.
Increasing costs pressure municipalities
The Legislature's Regional Jail Committee on Monday discussed jail fees, jail overcrowding, and sentencing reform and heard Parkersburg Mayor Tom Joyce, representing the Municipal League, say public safety costs to municipalities in West Virginia average about 40% of their budgets.
He said jail fees are a complex problem, and municipalities want to be part of the solution Cost shifting, he said, is not the answer, and cities should not be responsible for costs. He said taxpayers already pay for jails at the county level. Additionally, he said, cities have responsibilities and costs that county government does not have. He also suggested that asset forfeitures should go to regional jails.
Susan Economou, Deputy Executive Director for the West Virginia Municipal League, said municipal courts do not incarcerate people and now pay jail fees as part of court costs, which are later covered by the defendant. She said cities pay for incarceration. About 5,000 inmates come from municipalities.
The Municipal League wants to be part of the working group, she said, and cost shifting won't help.
Brad Douglas, Chief of Staff for the Division of Corrections, said the jail per-diem cost is $48.25. The cap on costs soon will expire, and counties will pay $5413. He said the per-diem rate has been the same since 2014. Those funds pay for operating jails, salaries, benefits, utilities, repairs, inmate medical services and meals, insurance coverage, and more.
Delegate Mick Bates of Raleigh County requested information about municipal arrests versus county arrests. The DOC said it could provide that information to the committee.
Catie Delligatti, Berkeley County Prosecuting Attorney and a member of the West Virginia Sentencing Commission, and the Commission had two major issues facing it during the pandemic — the difficulty to meet and a lack of data on sentencing. She said the first initiative was to get data through a survey of judges and probation officers regarding sentencing.
The initial report included specific recommendations on certain code sections.
The Sentencing Commission created work groups on judicial discretion and specific sentences Work groups are focusing on crimes against persons, drug crimes, sex offenses, property crimes, and parole eligibility/supervised release.
Former inmates describe their experiences
Members of a legislative interim committee heard two women describe their experiences as prisoners in the state's regional jail system.

Ashley Omps of Morgan County and Melissa Rose of Pocahontas County testified Monday in Charleston before the committee about conditions during their incarceration. Their testimony was delivered as part of a study of re-entry into the mainstream following incarceration and rehabilitation.

Click here to read more from WVMetroNews
Limits proposed on some consumer lawsuits
The Joint Standing Committee on the Judiciary on Monday heard about a proposed bill that could restrict the state Attorney General from bringing lawsuits for violations of the West Virginia Consumer Credit and Protection Act after 10 years.
Senate Committee on the Judiciary Counsel Liz Schindzielorz said the provisions of a draft bill would amend a single section of the West Virginia Code. The section authorizes the Attorney General to bring legal actions for violations of the state's consumer protection laws.
Proposed changes to the section include decreasing certain monetary penalties, reducing the statute of limitations on suits by the Attorney General, and including a state of repose that would place a hard cap on the number of years a suit could be brought after a violation of the law was discovered.
The committee also heard from Jed Nolan, Director of the West Virginia University College of Law's Veterans Advocacy Law Clinic. Mr. Nolan expressed concerns the bill might severely limit the legal recourse of veterans who suffer an injury because of the limitations on the Attorney General's ability to seek relief on behalf of a class of West Virginians.
Doug Buffington, Chief Deputy Attorney General, told the committee that he did not believe the bill would limit the ability of the Attorney General to cooperate with other state Attorneys General. He also indicated the most recent draft of the proposed legislation addressed the Attorney General's concerns about a prior version of the bill.
The joint committee did not take any action on the bill during the meeting. However, the proposed bill will be back before the committee at a future interim meeting for a vote on whether to recommend it for introduction and passage during the 2023 regular legislative session.
Click here to see more coverage from the West Virginia Press Association.
Panel reviews reimbursements to providers
On Sunday, the Select Committee on PEIA, Seniors and Long-Term Care discussed PEIA payments to providers and hospitals. The discussion centered on out-of-state providers, in certain circumstances, receiving about double the amount that in-state providers are paid for the same services.
Interim PEIA Director Jason Haught presented information regarding reimbursement methods for in-state providers. He said West Virginia PEIA members generally must have pre-authorization before they seek care from out-of-state providers or facilities. He said that becomes nebulous in some areas, such as the Eastern Panhandle, where Winchester Medical Center in Virginia is one of PEIA's biggest billers.
Mr. Haught said West Virginia providers and the state agreed in the past to accept PEIA rates as a reciprocal agreement to provide incentive for higher in-state care utilization and as a savings to state taxpayers and members of PEIA.
He said the PEIA reimbursement rate is at or above Medicare rates for major hospital and physician care except for in-patient care, which is the area of most concern. PEIA pays out-of-state providers based on United HealthCare's national network rates. All lab services are paid at the Medicare reimbursement level except for LabCorp, which is based on the United HealthCare rates.
Mr. Haught provided data detailing in-patient and out-patient costs and coverage amounts for in-state and out-of-state providers. He answered committee members' questions regarding what type of cases would be given prior approval for out-of-state care. He said most approvals for out-of-state care are given in circumstances of complex organ-transplant surgeries or cases of multiple co-morbidities.
Delegate Ken Reed of Berkeley County asked whether the state's Certificate of Need (CON) would affect PEIA. Mr. Haught said PEIA's consultants helped in the past with research regarding CON and were in favor.
Referencing more current conversations with colleagues at the West Virginia Hospital Association, Mr. Haught discussed the concern that facilities could selectively open in locations with more private payers and more patients and leave rural areas without access to care due to less reimbursement potential.
Committee focuses on access to natural gas
The Joint Committee on Economic Development heard a presentation Sunday from House Judiciary Counsel Brian Casto regarding the U.S. Supreme Court case Wickard vs. Filburn, which clarifies interstate commerce.
The committee heard the presentation to better understand the growing need for the eastern part of West Virginia to have access to natural gas for the purposes of economic development.
The situation arose because Maryland is blocking eastern West Virginia's access to a natural gas pipeline in Pennsylvania.
Mr. Casto said, based on Wickard vs. Filburn, the federal government's only jurisdiction involves interstate and not intrastate commerce. Therefore, he said, if a natural gas producer or pipelines from transport are built and used solely within West Virginia, the Federal Energy Regulatory Committee would not have jurisdiction over the pipeline.
He said some legislation could be introduced in 2023 that deals with the transport of natural gas within the state for economic development purposes.
State cites ways it's tackling nurse shortage
Cynthia Persily, vice chancellor for health sciences for the state's Higher Education Policy Commission, is in charge of spending $44 million in federal funding by Sept. 30 to address the state's nursing shortage.
Persily detailed the state's endeavors Sunday during testimony before the Legislature's Oversight Commission on Higher Education Accountability.
In December 2021, Governor Jim Justice announced an investment of $48 million to address the state's nursing shortage, part of a national trend. The money came to the state through the federal CARES Act, an economic stimulus package passed by Congress during the height of the Coronavirus epidemic.
The first goal of the program is to train 2,200 new nurses; 679 new slots opened in the first year of the program. Funds went to expand all nursing programs in the state, accelerate programs, and develop new programs. A total of $24 million is committed to the initiative over a multi-year period.
Besides accelerating programs, often converting off-summer months into additional semesters, several universities are offering new BSN programs, either separately or in partnership.
West Virginia is trying to attract 1,000 out-of-state nurses to move to and work in the state. Nurses must work for hospitals, licensed long-term care facilities, mental health facilities, or in public healt. A candidate who commits to work for one year will receives a $12,000 relocation bonus. Twenty people have taken advantage of the program since it started May 6.
The RN Board is implementing an online nurse support group, providing a place for nurses to get support related to career-related stress.
The HEPC is paying for all 2023 license renewals for RNs and LPNs, as well as paying for nursing faculty to advance their educations.
Post-audits panel hears about agency glitches
The Post Audits Subcommittee heard two audits performed by the Legislative Auditor's Post Audit Division — a report on the West Virginia Alcohol Beverage Control Administration and a report on Chapter 30 boards' website functionality.
The West Virginia Alcohol Beverage Control Administration (ABCA) report addressed two issues. First, the report looked at whether the ABCA maintains proper documentation regarding the allocation of rare liquors. The audit found it does not.
The ABCA could not provide the Auditor with sufficient documentation on backorders and the allocation information of certain liquors purchased by the ABCA for distribution. Consequently, the Auditor could not assess whether ABCA is distributing liquor in compliance with the agency's Spirits-102 policy. Accordingly, the Legislative Auditor found ABCA to be in noncompliance with W.Va. Code §5A-8-9 by not maintaining adequate historical backorder documentation for allocated and highly allocated products.
The report recommends the ABCA comply with W.Va. Code §5A-8-9 by retaining accurate and complete historic backorder data for all allocated and highly allocated products carried by the agency.
The second issue addressed by the Legislative Auditor was the ABCA Administrative Fund not reflecting the ABCA's actual bailment operations. Specifically, the current law included outdated references, and that has resulted in the agency retaining a fund balance that exceeds what is necessary for current operations. Additionally, it precludes the effective governance and management of the fund to ensure the efficient use of state revenues.
The Legislative Auditor recommends the Legislature amend W.Va. Code §60-3-15 to remove the outdated language and establish a limit for the Administrative Fund that reflects the ABCA's current bailment operations and operational funding needs.
The Legislative Auditor also looked at how ABCA handles licensing applications and renewals. The report found ABCA does not provide the option of submitting and paying for licensing applications and renewals online. Additionally, ABCA's website lacks interactive capabilities that allow retailers to see data in real time regarding spirit availability.
The Legislative Auditor recommends the ABCA consider the viability of offering online licensing for new applicants and license renewals and providing the option to accept online payments from licensees as necessary.
Further, the Legislative Auditor recommends ABCA investigate the feasibility of upgrading the functionality of the ABCA's website. An increase in functionality will provide more access to licensees and the public to conduct business with the ABCA and licensed retailers, it said. Changes might include real-time data regarding the availability of liquor stock in the state's retail establishments and greater online access for licensees to determine renewal dates and licensing fees.
The Legislative Auditor next reported on its review of Chapter 30 boards' website functionality.
The Legislative Auditor conducted a review of the website functionality of all professional licensing boards established in Chapter 30 of the West Virginia Code to determine:
·       The extent the boards' websites provide general information and consumer protections for citizens of the state seeking professional services, such as licensee rosters, the ability to file complaints online, and access to Board discipline records;
·       The ability for licensees to file for licensure renewal and pay requisite fees online; and
·       The costs associated with website design, creation, and maintenance.
Based on its survey, the Legislative Auditor recommends that Chapter 30 Licensing Boards:
·       Consider facilitating online complaints via their public websites.
·       Stop the practice of requiring notarization of formal complaints.
·       Comply with the provisions of West Virginia law by making available on their websites an active roster of licensees and information concerning recent disciplinary actions.
·       Consider encrypting their websites, registering for a ".gov" domain, and centralizing web services.
Click here to read more from the West Virginia Press Association.
Click here to read the Legislative Audit Report.
Access to some of the stories in From The Well may require a subscription to news outlets. H2C Public Policy Strategists has no control over the terms and conditions news outlets set to access their content.
·    July 24-26
·    Sept. 11-13
·    Nov. 13-15 (Cacapon State Park/Berkeley Springs)
·    Dec. 5-6
·    Jan. 8-10
Some information in this update is collected from the WV Legislature's Daily/Weekly Blogs.
Hartman Harman Cosco, Public Policy Strategists, LLC, (H2C) is a strategically assembled bipartisan lobbying firm comprised of legal, communications and policy professionals. H2C possesses the insight and intuition that only comes from decades of hands on experience leading community and statewide initiatives.