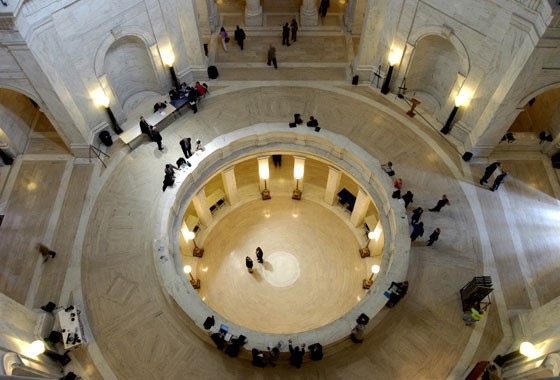 From The Well
May 24, 2022
Interim Meetings/Morgantown
,
At the center of the West Virginia state Capitol is an area known as The Well.
It is the informal gathering place for lobbyists, reporters, constituents and lawmakers.
Centrally situated between the chambers of the House of Delegates and Senate,
The Well is where information is often shared, alliances are formed, and deals are made.
Industry reps focus on opportunities
Speaking Monday in Morgantown to the Joint Interim Committee on Energy, industry representatives told legislators about energy-related economic opportunities.
Adam Kabulski, Vice President of Sales & Marketing for EPC Power Corp., discussed battery-manufacturing facilities and power-grid interfacing. Joel Harrington, Director of Public Policy (Eastern U.S.) for Enel North America Inc., talked about energy generation and power storage for wind- and solar-generation facilities.
Mr. Kabulski, a native of Fairmont and graduate of East Fairmont High School, said EPC is based in California but is opening a second factory in South Carolina. He said data tell battery systems when to charge while communicating to facilities nearby. He said lithium is used for 98% of the battery market, and the current highest producer of the element is Australia. Nevada is second largest.
He emphasized that batteries can solve problems, such as using them when power from the grid becomes very expensive. He said they also can reduce costs and generate revenue.
Asked about the recyclability of batteries, he responded, "We have a lot of work to do to make them fully recyclable."
Mr. Kabulski said the industry is moving fast, and he encouraged legislators to get involved, noting that West Virginia has been late to adopt pilot programs. As an example, he said North Carolina generated solar policies that drove growth of storage facilities.
Mr. Harrington said his company, Enel North America Inc., is a multinational global power company with 75 million end users. He said its renewables arm is the world's largest, operating 70 power plants in the U.S. with renewables.
"Companies are choosing to locate where there are renewables," he told the committee.
The company is in partnerships with West Virginia University and the Coalfield Development jointly and West Virginia Women Work.
Enel also is developing a 120-megawatt project in Raleigh County that will create 200 construction jobs and provide $2 million in new property tax revenue for local governments. He said his company has no state incentive for the Raleigh County project. He further explained the clean-energy industry employs 3 million Americans in a broad spectrum of jobs.
"Local hiring is important to us — union or non-union," Mr. Harrington said.
He concluded with a list of recommendations for legislators to consider to encourage the development of renewables:
·    enhance the procurement process;
·    streamline the permitting process;
·    streamline the interconnection process.
Click here to read WVMetroNews' coverage.
Lawmakers hear about small nuclear plants
The Legislature lifted a statewide ban on the construction of nuclear power plants in March. During interim meetings Sunday in Morgantown, legislators learned more about what that decision could mean.
Mike Valore, Westinghouse Nuclear Senior Director for Advanced Reactor Commercialization, explained the company's eVinci Micro-Reactor — in development at Waltz Mill outside of Pittsburgh — to members of the joint Government Operations and Government Organization interim committees.
Micro-reactors, he said, generate less than 10 megawatts of power. The eVinci will generate just over 5 MW, plus 8 MW thermal energy at 350 degrees. The eVinci, he said, has a smaller footprint and costs far less than a conventional nuclear plant.
The deployment model can be delivered to a site in four conventional truck containers. The site will occupy 1.5 acres, while the reactor building is 60 feet by 60 feet.
Click here to read more from WVMetroNews.
Emergency Medical Services
Joint panel focuses on EMS operations
The Legislature's Joint Committee on Volunteer Fire Departments and Emergency Medical Services on Sunday heard the Monongalia County EMS chief discuss challenges in delivering care and ways to improve services.
Forest Weyen, Executive Director of Monongalia County EMS, said EMS services are often subject to reimbursement, but EMS units have a cost of readiness that is not readily reimbursable. He said county government must be responsive financially to EMS agencies.
Mr. Weyen said reimbursement rates deserve attention. He recommended the Legislature look at ways to reimburse for services provided in the field. He noted that government payers reimburse at a fraction of the actual cost of services, resulting in a loss for the EMS agencies.
Mr. Weyen suggested counties be incentivized to fund EMS providers. In addition, he said the Legislature may want to consider regionalized provision of services.
He also made the following suggestions:
·    reduce barriers to the certification of EMTs;
·    state government needs to be more responsive to local agencies in terms of data requirements;
·    the Emergency Medical Services Advisory Council (EMSAC) needs to be reformed because it  is too unwieldy and inflexible;
·    initiate state group purchasing;
·    because of limited and decreasing resources, more focus is needed on pairing services with the needs of patients;
·    EMS may require statutory changes to allow transport to providers other than hospitals;
·    EMS safety is a priority.
Mr. Weyen also discussed the importance of communications with the state office. He mentioned a need for more cooperation among counties in the state and even in surrounding states.
Mr. Weyen said EMS services often are subject to reimbursement, but the cost of readiness is not readily reimbursable. This is where county government must be responsive to EMS agencies financially, he said.
He said 60% of counties provide some sort of financial assistance.
Weyen suggested reforming the Emergency Medical Services Advisory Council (EMSAC), which he said currently is too unwieldy and inflexible. He suggested a reduction in its size.
Responding to Senator Ron Stollings, a Boone County physician, Mr. Weyen said the EMS system is migrating from a volunteer-focused system to a professional career-focused system. He said he would like to see more emphasis on developing EMS as a career.
State officials seek corporate partnerships
West Virginia health officials are seeking private-public partnerships to help expand child-care services across the state.
During interim committee meetings Monday in Morgantown, state lawmakers heard about efforts to work with businesses such Nucor Steel, which is preparing to build a facility in Mason County and employ up to 800 people.
Lisa Ertl, Director of the state DHHR's Division of Early Child Care Education, gave a presentation to the Joint Committee on Health.
Click here to read more from WVMetroNews.
Tougher child-abduction law proposed
Child abduction was the topic Tuesday when the Commission on Interstate Cooperation met in Morgantown to hear a preview of recommendations the West Virginia Commission on Uniform State Laws plans to make in the fall.
The Commission identifies areas of legal need and works with state legislators to draft uniform statutes.
Commission Chair Vincent Cardi, a West Virginia University law professor, presented the Uniform Child Abduction Prevention Act to address the gap in current law, which addresses criminal abduction but does not include abduction prevention.
Because the majority of child abductions are perpetrated by family members (78% of abductions), the law would enable the court to enact preventative measures when the risk of abduction has been identified.
When overt signs of risk are present, including threats of abduction and previous attempts of abduction, the court would be given the power to impose travel restrictions, including the prohibition of moving a child from the state or county. The act also would allow the court to place a child's name in the Children's Passport Issuance Alert Program.
Fifteen states, including Pennsylvania, have enacted similar laws.
The Governor chose Professor Cardi to lead the commission from a list of West Virginia State Bar Association recommendations.
Public Employees Insurance Agency
Committee hears about financial conditions
The Select Committee on PEIA, Seniors, and Long-Term Care met Monday during the Interim Session in Morgantown to continue its conversation with PEIA Interim Director Jason Haught.
The committee began with asking follow-up questions from Haught's presentation in April on the overall health of PEIA.
Delegate Matthew Rohrbach of Cabell County asked for elaboration on how the program was offsetting increased costs from retirees. Haught said active premiums have been raised to cover Other Post-Employment Benefits (OPEBs). Currently, active premiums have increased the OPEB fund to $1.6 billion. The OPEB fund is expected to reach $1.8 billion to $2 billion by 2027, and it would be considered fully funded.
Additionally, premiums have increased for all salary tiers to account for salary increases across the board. Each tier will go up $2,700 beginning Aug. 1, 2022.
The Committee previously asked Interim Director Haught to provide information about mandated versus optional plan benefits. He raised concern regarding vague language in the state code about what is required from health insurers. He found it problematic that there was no clear requirement to provide durable medical equipment or services like massage therapy that may help reduce the use of and dependence on opioid pain medication.
Looking at rising costs of care for PEIA, Interim Director Haught focused on surging prices of specialty drugs, which have soared across the country. He said pharmacy costs account for 40% of total claim costs for PEIA.
Delegate Ken Reed said the current strategy is not working and has created an "addiction to rebates" from drug manufacturers.
Delegate John Doyle asked Interim Director Haught whether it would be feasible to collaborate with sister agencies in other states to combat specialty drug costs. Haught acknowledged that as a possibility.
Delegate Rohrbach added that constituents are concerned about changes in covered drugs. The Interim Director assured the committee that changes to covered drugs were made only if a drug with equivalent efficacy was available for a lower price. He added that an appeals process is in place regarding nonformulary drug determinations.
At the close of the meeting time, Senator Bill Hamilton asked to address the effect of rising fuel costs to senior centers, specifically center employees who provide in-home care. Delegate Rohrbach answered that he would have the committee staff add the topic for discussion on a future agenda.
Economist sees pluses to compensation plan
The Joint Standing Committee on Finance met Tuesday morning to hear an overview from John Deskins, Ph.D., Director of the West Virginia University Bureau of Business and Economic Research, about locality pay and a brief review about the impact of property tax exemptions.
Dr. Deskins concluded locality pay "makes sense" for West Virginia. With the cost of living varying across the state, he said, a wage schedule is needed to attract qualified workers to state jobs specifically in areas where the private sector presents greater competition with higher wages.
Looking at the federal government locality pay schedule, which has been in place since the early 1990s, Deskins recommended similarly adjusting wages only in areas that see a wage differential of more than 5%. Focusing locality pay to areas with the greatest competition in the labor market limits administrative complexities for the state and mediates negative spillover effects, such as increased commuting and vacancies in neighboring counties.
Committee members asked about the impact of pay raises on pensions and how often the pay schedule should be updated. Delegate Matthew Rohrbach asked whether the total compensation, such as generous benefit packages for public employees, was factored into the comparison of compensation to the private sector. Dr. Deskins offered to compile the committee's questions for research and presentation at a future meeting.
Turning to the impact of property tax exemptions, Dr. Deskins said taxes on land and property are more effective than taxes on more mobile bases, such as like business inventory that risk a greater number of inefficient distortions. He cautioned that even though more stable revenue producers are preferential to the state, local governments depend more heavily on tax revenue from sources other than land and property.
Senator Chandler Swope from Mercer County suggested that increased property taxes on abandoned and dilapidated properties could incentivize the sale of distressed properties, and that could improve communities and raise property values.
Click here to read coverage from WVMetroNews.
Programs designed to attract workers
The Legislative Oversight Commission on Workforce Investment for Economic Development heard Danny Twilley on Monday discuss the Brad and Alys Smith Outdoor Economic Development Collaborative and Secretary of Tourism Chelsea Ruby describe the state's remote worker initiative.
Dr. Twilley, Assistant Vice President of Economic, Community and Asset Development for the Collaborative, said the program chooses families that engage with communities and support local businesses.
The mission of the Collaborative is to use West Virginia's outdoor assets to ignite the state's economy and enhance the quality of life for West Virginians through outdoor recreation. It envisions vibrant communities filled with a diverse workforce that enjoys the outdoors.
Dr. Tilley said the program requires a two-year stay.
Secretary Ruby said a $25 million gift initiated the state remote worker initiative program, and the response has been favorable. It offers a $12,000 cash incentive, outdoor discounts for one year, two years of outdoor equipment use, and working space.
Secretary Ruby said it is the only program in the nation based on outdoor recreation as an incentive, and it closely aligns with the state's tourism program. Morgantown was the first location launched.
She said the state received 7,500 applicants for 50 spots, and they came from 50 states and 70 countries. She said 23% of those selected are native West Virginians who are returning to the state. Twenty-one states are represented. One participant is from Germany.
Secretary Ruby said those selected represent diverse fields, industries, and companies. All told, 110 persons relocated to Morgantown
The persons selected have an average annual salary of $105,000, she said.
Those not selected, she said, were offered $2,500 off closing costs through Rocket Mortgage to encourage relocation to West Virginia. The program continues to communicate with applicants and keeps up with their status.
Secretary Ruby said Charleston, Beckley, and Wheeling have developed their own programs.
Experts note protections for workers
Two medical marijuana experts told the West Virginia Legislature's Joint Standing Committee on the Judiciary on Tuesday that employers should be aware of protections for workers who use the prescribed drug.
West Virginia approved the use of medical marijuana in 2017, and legislators are interested in achieving a balance between workplace safety and protecting employee rights.
Speaking at the West Virginia University College of Law in Morgantown, Aaron R. Lopez, Founder and Principal at Political Capitol, and Attorney Nancy Delugo of Littler Mendelson agreed the federal Health Insurance Portability and Accountability Act of 1996, known as HIPAA, does not apply to employment law, but the Americans with Disabilities Act and state laws offer protections to employees who are prescribed marijuana for treatment.
Delugo, who appeared remotely, and Lopez said many employers have changed their focus in recent years from employee drug use to employee impairment, which can affect workplace safety.
Measuring impairment is not easy, they said. Blood and urine test results can show marijuana use over an extended period, but testing oral fluids through a mouth swab can show drug use over the past 12 to 24 hours, they continued. Deluga noted, however, that drug tests that measure THC (the active ingredient in marijuana) do not measure employee impairment, a factor important to employers who want to maintain workplace safety.
"Impairment is impairment," Lopez said, noting that sleep deprivation, drugs, and alcohol can contribute to it. He added that employers would like to have a means to accurately determine whether an employee is impaired.
Delugo said criminal laws have evolved during the past 75 years that rely on blood and breath tests.
West Virginia adopted a standard of 3 nanograms per milliliter of THC as the threshold for impairment, they said. Some states have higher thresholds.
The speakers described a changing landscape nationally as states adopt laws to address the use of medical marijuana. As a result, they said, medical marijuana laws vary from state to state, and they can affect employers.
Click here to read coverage from WVMetroNews.
Bureau for Medical Services
Legislators hear responses from agency
Cindy Beane, Commissioner for the West Virginia Bureau for Medical Services (BMS), appeared Monday before the Legislative Oversight Commission on Health and Human Resources Accountability (LOCHHRA), presenting BMS' response to 12 questions from LOCHHRA.
The subjects of the questions ranged from the Bureau's statutory authority, organizational structure, budget, and contracts to questions about whether the BMS mission overlaps or duplicates other bureaus within the West Virginia Department of Health and Human Resources.
Commissioner Beane spent about an hour describing the organization's structure and hierarchy. Some of her discussion got into the number of employees and vacancies over recent years for the bureau.
Click here to read more from WVMetroNews.
What's next for state's senior U.S. Senator?
With Joe Manchin's most recent term in the U.S. Senate almost two-thirds complete, speculation is simmering: What will his political future be? Two recent columns offered very different perspectives.
Christopher J. Regan, former vice chairman of the West Virginia Democratic Party, wrote recently that Senator Manchin will have three choices when it comes to 2024: 1) run for re-election as a Democrat; 2) retire from the Senate; 3) seek re-election to the Senate after switching to Republican.
The author said Washington politics put the Marion County native in a difficult situation.
Click here to see Christopher J. Regan's op-ed, which appeared in the May 22 edition of the Charleston Gazette-Mail.
On the Raleigh County-based Lootpress website, Tyler Barker penned a lengthy opinion piece that asks: "Joe Manchin for President 2024?" Barker noted the former governor has raised money from contributors across the nation. The column also said Senator Manchin could be a candidate in 2024 to succeed Governor Jim Justice.
Click here to read Tyler Barker's op-ed.
Access to some of the stories in From The Well may require a subscription to news outlets. H2C Public Policy Strategists has no control over the terms and conditions news outlets set to access their content.
·    June 12-14
·    July 24-26
·    Sept. 11-13
·    Nov. 13-15 (Cacapon State Park/Berkeley Springs)
·    Dec. 5-6
·    Jan. 8-10, 2023
Some information in this update is collected from the WV Legislature's Daily/Weekly Blogs.
Hartman Harman Cosco, Public Policy Strategists, LLC, (H2C) is a strategically assembled bipartisan lobbying firm comprised of legal, communications and policy professionals. H2C possesses the insight and intuition that only comes from decades of hands on experience leading community and statewide initiatives.