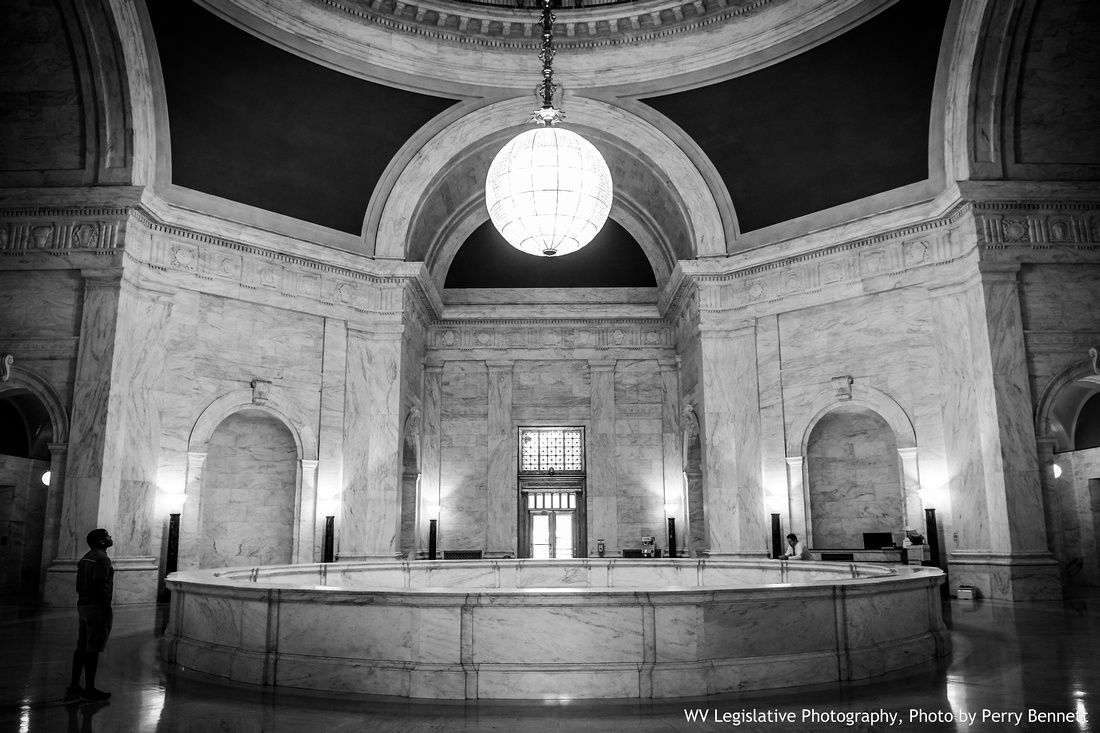 At the center of the West Virginia state Capitol is an area known as The Well.It is the informal gathering place for lobbyists, reporters, constituents and lawmakers.
Centrally situated between the chambers of the House of Delegates and Senate,
The Well is where information is often shared, alliances are formed, and deals are made.
86th West Virginia Legislature
January 30, 2023
Welcome! Click 
here
 to subscribe to HC/GR Morning Clips.
Bill requires immigration law enforcement
The House Committee on the Judiciary on Monday adopted a committee substitute for House Bill 2008, which requires local entities to enforce immigration laws.

The bill prohibits a county or municipality from enacting an ordinance or policy, written or unwritten, that results in the employees of the county or municipality not complying with federal authorities in the enforcement of federal immigration law.

Violations of the new law by a local entity may result in the denial of state funds by the state Auditor and enforcement actions by the state Attorney General. The committee adopted the committee substitute by a voice vote.

The bill now will go to the floor for consideration by the full membership of the House.

Bill limits medical procedures on children

The Committee also took up a committee substitute for House Bill 2007. Adopted by the House Health Committee. HB2007 prohibits a physician from providing irreversible gender-reassignment surgery or gender-altering medications to a person under 18 years old of age.

The bill includes exceptions for procedures that may result in physical changes to a child's body but are not performed to assist an individual with a gender transition.
Bill addresses allocation of employees
The Senate Health and Human Resources Committee heard testimony last week regarding Senate Bill 273, which addresses the allocation of child protective services (CPS) workers in individual counties.

As explained by Senate Counsel Cindy Dellinger, the introduced bill realigns "the Office of the Bureau for Social Services and the Office of the Commissioner. The bill provides that staffing of the offices shall be based on the 2020 census."

Ms. Dellinger said the bill does not stipulate salary uniformity. That means agencies are not required to offer or provide the same rate of pay in different regions across the state for similar positions.

Click here to read more from the West Virginia Press Association.
Committee toughens indecent exposure law
The Senate Judiciary Committee took little time Monday to pass a bill making indecent exposure in front of a minor a felony.

A committee substitute for Senate Bill 472 changes the crime of indecent exposure to a minor from a misdemeanor to a felony and creates enhanced penalties for repeat offenders. The bill now goes to the full Senate for consideration.
Panel OKs raises for teachers, service staff
The House of Delegates Education Committee on Monday adopted pay bills for teachers and school service personnel.

House Education counsel said House Bill 2828 would move teachers' starting salaries from $39,000 to $44,000.

Through provisions of existing law, teachers will receive other increases in salary, based on years of experience and degree attainment.

The measure is expected to cost $171 million, according to fiscal information prepared by the state Department of Education.

Delegate Wayne Clark of Jefferson County praised lawmakers for supporting the bill, saying "we can finally show our teachers that we've been listening, and we want to help and make things better."

He also noted pay disparities between his district and neighboring school districts in Virginia.

House Bill 2598 provides a $900 monthly increase to state school service personnel, according to the bill note. The state Department of Education fiscal note says the measure will cost $121 million, although the amount could vary annually based on county board deployment of service personnel.

Additionally, the Committee approved these measures:

House Bill 2279 grants in-state resident status to students whose parent or legal guardian received economic development incentives to locate to West Virginia. The student must file his or her intent to establish residency in West Virginia. The student would qualify as a "resident" on the first day of the semester or term for purposes of receiving resident tuition rates.

House Bill 2380 removes obsolete sections of law relating to the School Building Authority of West Virginia.

House Bill 2443 designates school service employees certified as Director or Supervisor of Pupil Transportation by the National Association for Pupil Transportation eligible for professional employee positions involving supervision of county transportation departments. County boards posting professional positions involving supervision of county transportation departments must consider service employee applicants having NAFPT certification for Director or Supervisor of Pupil Transportation positions.

House Bill 2941 extends the sunset date for the state Advisory Council on Postsecondary Attainment goals until 2025. The Council's role is to ensure that students have opportunities to learn and earn the "most relevant industry-demanded knowledge, skills, and credentials to prepare students for the challenges of college, careers, and life" based on collaboration with K-12 education leaders, employers and industry leaders, state agency leaders, the Higher Education Policy Commission, and the Council for Community and Technical College Education.

House Bill 2942 allows the state Superintendent of schools to automatically suspend a teacher's certificate for offenses that involve battery and assault of a disabled child; child abuse resulting in injury or child abuse creating risk of injury; sexual abuse as a person in a position of trust to a child or for allowing sexual abuse to be inflicted upon a child and display of sex organs by a person in a position of trust and/or failure to report such abuses.

House Bill 2989 increases the number of out-of-state medical students receiving in-state tuition rates from two to four program participants per medical school. The House Education Committee amended the bill to ensure students render services for one calendar year as a M.D. or O.D. both in a medically underserved area and in a primary care or specialty practice or field in West Virginia having a shortage of physicians.
Agency seeks to employ more inspectors
West Virginia lawmakers recently heard the head of the state Department of Environmental Protection explain the need to shore up the agency's funding for gas and oil well inspectors

"I can't stress the importance I think this means for the state of West Virginia or the oil and gas program," DEP Secretary Harold Ward said.

Secretary Ward told the House Finance Committee about his hope that lawmakers pass legislation instituting a permit fee that adds $2.1 million in revenue for his agency to address a funding shortfall for the DEP Office of Oil and Gas. The Office of Oil and Gas monitors the exploration, drilling, storage, and production of natural gas and oil in West Virginia.

Click here to read more from the Charleston Gazette-Mail via the West Virginia Press Association.
Professor studies beneficial chemicals in gas
Natural gas is booming in West Virginia and the United States, accounting for more than 38% of the nation's total energy consumption. A West Virginia University researcher hopes to capitalize on valuable untapped chemicals that can be formed from shale gas commonly found in Appalachia.

Madelyn Ball, Assistant Professor of chemical and biomedical engineering at the Statler College of Engineering and Mineral Resources, received $110,000 from the American Chemical Society to conduct research about converting alkane hydrocarbons from shale gas into olefins, a class of chemicals made up of hydrogen and carbon. Those include ethylene and propylene, which can be used to make plastics and other complex chemicals.

Click here to read more from WVU Today via the West Virginia Press Association.
Access to some of the stories in From the Well may require a subscription to news outlets. Hartman Cosco Government Relations has no control over the terms and conditions that news outlets set to access content.
2023 Legislative Session
20th Day — January 30: Submission of Legislative Rule-Making Review bills due (WV Code §29A-3-12)
35th Day — February 14: Last day to introduce bills in the House. House Rule 91a does not apply to originating or supplementary appropriation bills, and does not apply to Senate or House resolutions or concurrent resolutions.
41st Day — February 20: Last day to introduce bills in the Senate. Senate Rule 14 does not apply to originating or supplementary appropriation bills and does not apply to Senate or House resolutions or concurrent resolutions.
47th Day — February 26: Bills due out of committees in house of origin to ensure three full days for readings.
50th Day — March 1: Last day to consider bill on third reading in house of origin. Does not include budget or supplementary appropriation bills.
60th Day —  March 11: Adjournment at midnight.
Some information in this update is collected from the WV Legislature's Daily/Weekly Blogs.
Hartman Cosco LLC Government Relations is a strategically assembled bipartisan lobbying firm comprised of legal, communications and policy professionals. Hartman Cosco possesses the insight and intuition that only comes from decades of hands on experience leading community and statewide initiatives.