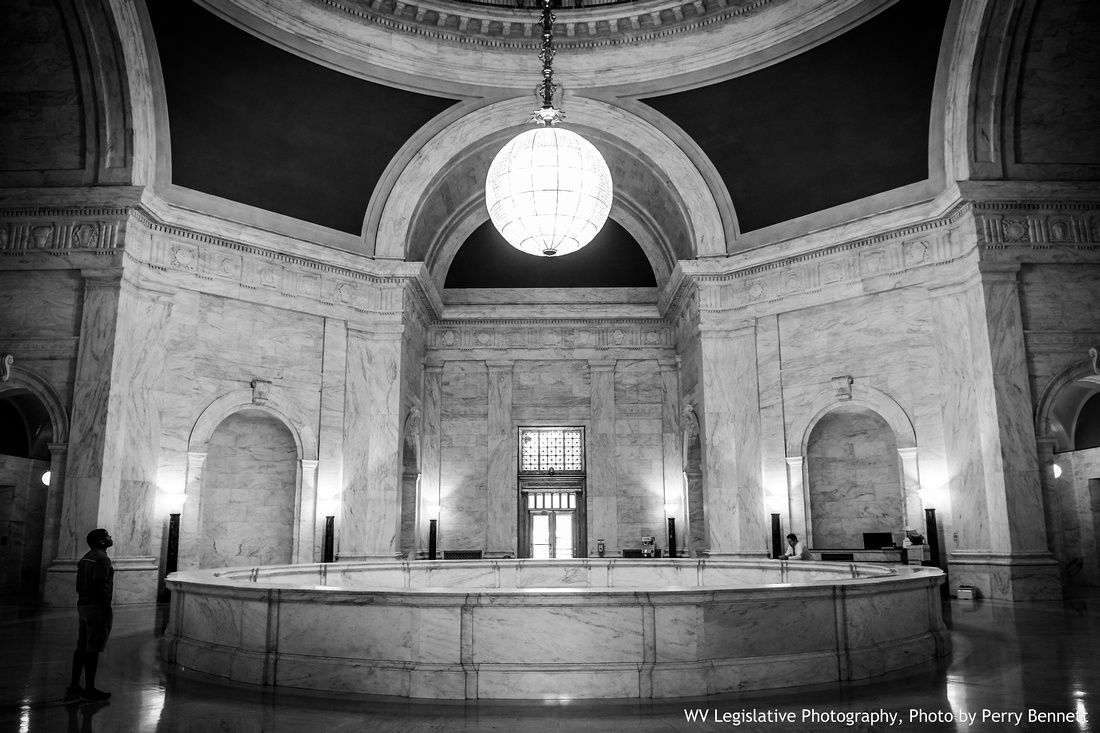 At the center of the West Virginia state Capitol is an area known as The Well.It is the informal gathering place for lobbyists, reporters, constituents and lawmakers.
Centrally situated between the chambers of the House of Delegates and Senate,
The Well is where information is often shared, alliances are formed, and deals are made.
86th West Virginia Legislature
January 26, 2023
Welcome! Click 
here
 to subscribe to HC/GR Morning Clips.
Ombudsman legislation clears Committee
The House of Delegates Health and Human Resources Committee on Thursday reported House Bill 3061 to the floor with the recommendation that it be passed.

The bill permits the Foster Care Ombudsman to investigate and review issues in the child-welfare system. It adds language that protects the Ombudsman from being compelled to testify, removes limiting language on who can file a complaint with the Ombudsman, and prohibits other state agencies from preventing the release of the Ombudsman's reports.

According to Pamela Woodman-Kaehler, Director of the Foster Care Ombudsman Program, the Ombudsman handles concerns that may relate to people affected by the child-welfare system and works to help resolve their problems efficiently.

HB3061 would assist in this process by allowing for more thorough investigations.

As for protecting the Ombudsman from being compelled to testify, Director Woodman-Kaehler said confidentiality "is essential for building trust" with the individuals and witnesses within the system who disclose information that is beneficial to the community.
2 bills advance through subcommittee
A Senate Judiciary subcommittee on Thursday recommended two bills to the full Judiciary Committee.

The first bill would require persons required to register with Central Abuse Registry and the Sex Offender Registry to pay an annual fee of $75.

Senate Bill 120 (requiring registered sex offenders to pay an annual fee), will require registrants to pay the fee between January 1 and January 30 each year. The State Police may use the fee to defray costs associated with maintaining the registry. Although the bill requires the payment of the fee, the failure to pay may not be deemed a violation of the person's supervised release.

Committee Counsel presented a proposed committee substitute that included a process for a person to have his or her name removed from the registry. The committee substitute enumerated specific offenses that, if committed when a person was between the ages of 18 and 21, would be eligible for removal from the Sexual Offender Registry. To qualify for removal, a person must petition a circuit court and be on the registry for at least 10 years.

Senator Patricia Rucker of Jefferson County testified about the need for the proposed process. She provided examples of persons who committed offenses that, while requiring registration, were not violent or predatory. She suggested requiring persons who have committed non-violent sexual crimes to remain on the registry for long periods was not proportionate to the offense committed.

After hearing Senator Rucker's testimony, the subcommittee approved a motion to limit the application of the removal process to just two offenses — §61-8C-3a (prohibiting child erotica; penalties) and §61-8C-3b (prohibiting juveniles from manufacturing, possessing, and distributing nude or partially nude images of minors).

After amending the committee substitute, the Committee adopted a motion to refer the committee substitute to the full Judiciary Committee.

Real Property-Offense Bill Developed

The Subcommittee also voted to recommend to the full Judiciary Committee substitute bill 299. The bill creates a new misdemeanor offense of unlawful entry, occupation, or retention of real property.

The Subcommittee was presented with a committee substitute that reorganized the new section. The bill authorizes a court to order restitution to a victim for damages, including cleanup expenses. Additionally, the court has the discretion to delay or defer entry of judgment of conviction, including dismissing the charge if restitution is made to a victim within six months after conviction.
Panel discusses voting rights for felons
On Thursday, Counsel explained Senate Bill 235 to Senate Judiciary Subcommittee B, stating that in current law all felons are not allowed to vote until they have completed their sentence.

West Virginia case law has said parole, probation, and supervised release are all part of the sentence.

SB235 would allow felons to register to vote upon completion of their incarceration. Counsel said only two states — Kentucky and Virginia — permanently disenfranchise felons.

"The rest of the country is mixed. There's been a movement towards restoring voting rights," Counsel said.

Daniel Griffith, Senior Director of Policy for Secure Democracy USA, said his organization promotes access for eligible voters, and SB235 achieves their goals. He added data that says 21 states allow registering to vote upon completion of incarceration, including Ohio, Indiana, Utah, and New Hampshire.

Mr. Griffith said the end of incarceration period provides clarity.

"If they're serving their sentence of incarceration, they're ineligible. If they're not, they're eligible," he said.

He added that it's also more clear for election workers.

"If they're in the Clerk's office, they're obviously not incarcerated," Mr. Griffith said.

There are now 7,500 individuals in West Virginia who are under probation or parole and cannot register to vote, according to Mr. Griffith.

"Civic engagement has been found to reduce rates of recividism," he said.

Senator Mike Stuart of Kanawha County asked about his organization's funding and whether it is nonpartisan.

"What are the motivations for your organization? Are you really nonpartisan? Do you receive funding from George Soros?" Senator Stuart asked.

Mr. Griffith said he is not aware of funding from that source.

Senator Stuart went on to say there are compelling reasons not to let felons vote: They are disenfranchised because society deems felons to be untrustworthy. He cited a couple of currently incarcerated felons in West Virginia and asked Mr. Griffith whether those offenders should be allowed to vote.

"We are a voting rights organization," Mr. Griffith said, stating that some people would see it as a reward for good behavior and a right when those citizens are employed and paying taxes. He clarified that his organization does not endorse the right of convicted felons to vote while incarcerated.

Kenneth Matthews, a member of Volunteers in Service to America (VISTA), spoke to the Committee as a former incarcerated person. He said the country was founded on "no taxation without representation" and that he has been doing well since he was released in 2020.

He said he had spoken to Judiciary committees, but he couldn't vote because he was on parole.

"We are doing everything possible but are held back by the one thing to make us whole," he added.

Referring to Senator Stuart's use of the phrase "balance of equities" regarding what is fair and what is not, Mr. Matthews noted inequity in the current law, saying, "Doing well doesn't matter. I'm part of the fringe of society."

Chairman Michael Azinger of Wood County asked Mr. Matthews about the length of time for probation and the distinction between parole and probation. Mr. Matthews said probation is determined by a judge, and if a sentence was 15 years, probation also could be as long as 15 years. He said probation could also be as long as 15 years. Parole is administered by the Parole Board, and a person can be on both parole and probation at the same time or on probation after parole.

"I put in the time. I put in the effort," Mr. Matthews said, noting he is working, volunteering, and paying taxes.

Senator Mike Caputo of Marion County said, "Thank you for your courage to come here. I'm a firm believer in second chances. I hope we do get this bill."

Because of time constraints, Senator Mark Maynard of Wayne County moved to lay over the bill for further discussion at the next meeting.
Bill addresses legislative appointments
Senate Judiciary Subcommittee B, appointed by Chairman Charles Trump of Morgan County to review elections bills, took up where it left off last week with a committee substitute for Senate Bill 50 that addressed concerns raised at the last meeting. The bill refers to appointments to fill a vacancy in the Legislature.

The bill will be reported to the full Judiciary Committee.

The committee substitute states that the appointed person must be a resident for at least one year of the same district as the legislator being replaced. The phrase "or county" used in the introduced bill is removed.
Legislation would ax health claims database
The Senate Health Committee on Thursday passed House Bill 2029, which the House of Delegates passed with 98 votes.

The bill would repeal the creation of an all-payor claims database. Chairman Mike Maroney of Marshall County, a medical doctor, asked Committee Counsel to explain what it is and provide some history.

Counsel said the initiative passed in 2011 to collect data from health insurance companies that were to submit data to a group of state entities. That was later changed to submit data to DHHR, but it was never implemented. The data was not collected.

DHHR submitted a rule that was 100 pages long and required collection of a lot of personal data. Counsel said there were serious privacy concerns.

"I wanted everyone to be aware of why this is being repealed," Chairman Maroney said.
Bill would change allocation of CPS workers
The Senate Health Committee on Thursday passed a committee substitute for Senate Bill 273. The bill relates to child welfare and would eliminate a requirement to allocate child protective workers annually by district.

It requires the Department to have a redundant system in the event of a centralized intake outage. The redundancy system is required to be transparent and operational by July 1, 2023.

Counsel said the committee substitute streamlines the Bureau for Social Services and adds a reporting requirement of Child Protective Services allocation to the Legislative Oversight Committee for Health & Human Resources Accountability (LOCHHRA). The committee substitute also fixes code conflicts with the DHHR reorganization bill that currently is in the legislative process.

The Commissioner shall allocate child protective service workers in counties based upon population on the 2020 Census.

The Bureau for Social Services is required to develop a merit-based system for specified employees that will be exempt from the Division of Personnel by January 1, 2024.

Counsel pointed out that a fiscal note has been requested, and the bill was second-referenced to the Finance Committee.
Managed care-related bill passes committee
Committee substitute for House Bill 2018 passed the Senate Finance Committee on Thursday with no questions or discussion. The bill would ensure that the managed-care case coordinators, dealing with child abuse and neglect, are able to attend and participate in multidisciplinary team meetings.
Senate Committee approves 3 bills
The Senate Education Committee adopted three bills at its Thursday meeting.

Senate Bill 222 directs the state superintendent to establish an adult education task force within the state Department of Education to study adult education centers.

The task force would include at a minimum the state superintendent, or a designee, the head of adult education learning centers, and geographically diverse representatives, including business members and appointees representing the community college system.

The task force is to convene on or before July 1, 2023. Its report is to be submitted to the Legislature by December 1, 2023. The introduced legislation states that while the centers have ties to the state Department of Education, the WVDE isn't obligated to fund centers. As a result, the legislation concludes that centers derive funding from many areas without "regularity."

Senate Bill 306 establishes the Summer Feeding for All initiative. County boards, as part of an assessment of food insecurity in counties, would be required to compile and distribute a list of food providers that could assist children with food insecurities on non-school days.

County board information about children's food insecurity would be provided to the state Department of Education's Office of Child Nutrition. That Office would monitor county board assessment activities and share information about innovative and successful program initiatives that promote the Summer Feeding for All Program

Senate Bill 428 revises laws relating to Local School Improvement Councils (LSICs).

These are among the changes:

·     Of the two LSIC representatives who represent school service personnel, one of the service personnel is to be a bus operator.

·     For the three parent/guardian/custodian members, in all cases those members are to be elected by parents, guardians, and custodians of students enrolled in the school.

·     Minutes of LSIC meetings are to be available on the school's website and upon request.

·     A report of concerns, suggestions, and points raised during the LSIC's annual meeting regarding the school's academic performance are to be produced and made available on the school's website and forwarded to both the county board and the Office of Accountability and posted on the county board's website.

·     Requires the role and governance of LSICs be covered at least once a year in training provided to principals, county boards, and others the state Board determines appropriate;

·     Requires a document to be produced explaining to parents and community leaders their role in LSICs; requires the document to be made available on the WVDE's website; and allows the document to be distributed to parents.

·     Allows public charter schools to abide by all or some of the LSIC requirements.

LSICs provide school community members the ability to suggest waivers of state laws and regulations and to focus on student achievement.
Bill designed to add security in schools
The House Education Committee on Wednesday approved House Bill 2549, which allows school employees to serve as "School Protection Officers" (SPOs).

SPOs could carry concealed weapons, including tasers and "stun guns."

(Click here to see WVMetroNews' coverage.)

School employees wishing to become SPOs must designate their intent in writing, submitting it to the county superintendent. They must show proof of having a valid concealed-carry endorsement or permit and submit a certificate of a school protection officer training program completion.

Before a school district may designate a teacher or administrator as a School Protection Officer, the school board would have to hold a public hearing on whether to allow that designation.

Committee debate centered around several topics, such as identity of the SPOs, which House Education counsel said wouldn't be known based on existing concealed weapons carry laws; removal of an SPO for matters such as domestic violence that may require firearms surrender as determined by a judge based on committee testimony; liability; willingness of employees to assume the responsibilities; and assurances SPOs weapons would remain concealed.

In response to questions from Vice Chair Joe Statler of Monongalia County, Committee Counsel reiterated county boards "may" designate protection officers whose duties as school protection officers are voluntary and in addition to other duties.

The Committee discussed the value of SPOs, who would be placed in facilities alongside other school security personnel who may carry weapons.

A representative of the state's Division of Homeland Security addressed training for SPOs, saying their training probably should be "more demanding than what may happen." He reiterated SPOs risk their lives.

Dale Lee, President of the West Virginia Education Association, noted teachers have died in school shootings while trying to protect students' lives.

In other action, House Education approved:

House Bill 2596 disallows students suspended or expelled for offenses such as alcohol use, assault and battery, use or possession of controlled substances from transferring to other schools, including schools in another county (intercounty transfer). The bill also allows county boards to disallow transfers for other reasons, including class sizes or staffing considerations.

House Bill 2835 repeals an obsolete section of code providing for the merger and consolidation of the West Virginia Graduate College and Marshall University, which is the Marshall University South Charleston Campus.

House Bill 2850 provides an expanded list of "identified exceptionalities," including autism, for which "general education teachers" are to receive academic support if students with these exceptionalities are included in "general" classrooms. The bill also states "classroom assistant teachers" are to provide "more individualized direct services" for students having identified exceptionalities.

House Bill 2890 modifies the authority of teachers and school personnel to discipline students removed from a classroom for behavioral issues. The bill requires county boards to implement a tier system policy for student behavior and for student disciplinary measures. County boards, in developing the policy, would be required to seek teacher input. The bill specifies that school principals are to "support the teacher in discipline of the students if proper cause and documentation is provided following the schoolwide discipline policy. The teacher may not be reprimanded if his or her actions are legal and within the structure of the school board's policy for student behavior and punishment." The Committee adopted an amendment that allows county boards, in lieu of suspensions, to consider placing students in alternative learning centers or placements.

The Senate Education Committee approved Senate Bill 282, the West Virginia Guardian Program, which also addresses school safety.
Citizens Commission recommends raises
The Citizens Legislative Compensation Commission has recommended a pay increase for members of the West Virginia Legislature.

Members currently make $20,000 a year with additional money for participating in interim meetings and travel expenses.

If a new recommendation is approved, the annual pay would increase to $28,000 which is equal to the per-capita income of the state according to the U.S. Census. Pay for extra duty days and interim meetings will also increase from $150 to $250 a day as part of the recommendation.

The measure was referred to the Senate Finance Committee.

Click here to read more from West Virginia Public Broadcasting.
Corrections and Rehabilitation
William Marshall named Division chief
Governor Jim Justice recently announced the appointment of William "Billy" K. Marshall III as Commissioner of the West Virginia Division of Corrections and Rehabilitation.The appointment is effective immediately.

According to the Governor's Office, Mr. Marshall previously served as Assistant Commissioner for the Division of Corrections and Rehabilitation and the Bureau of Juvenile Services since May 2018. Prior to that, he served more than 25 years with the West Virginia State Police, before retiring in July 2017.

Click here to read the Governor's Office news release.
Access to some of the stories in From the Well may require a subscription to news outlets. Hartman Cosco Government Relations has no control over the terms and conditions that news outlets set to access content.
2023 Legislative Session
20th Day — January 30: Submission of Legislative Rule-Making Review bills due (WV Code §29A-3-12)
35th Day — February 14: Last day to introduce bills in the House. House Rule 91a does not apply to originating or supplementary appropriation bills, and does not apply to Senate or House resolutions or concurrent resolutions.
41st Day — February 20: Last day to introduce bills in the Senate. Senate Rule 14 does not apply to originating or supplementary appropriation bills and does not apply to Senate or House resolutions or concurrent resolutions.
47th Day — February 26: Bills due out of committees in house of origin to ensure three full days for readings.
50th Day — March 1: Last day to consider bill on third reading in house of origin. Does not include budget or supplementary appropriation bills.
60th Day —  March 11: Adjournment at midnight.
Some information in this update is collected from the WV Legislature's Daily/Weekly Blogs.
Hartman Cosco LLC Government Relations is a strategically assembled bipartisan lobbying firm comprised of legal, communications and policy professionals. Hartman Cosco possesses the insight and intuition that only comes from decades of hands on experience leading community and statewide initiatives.