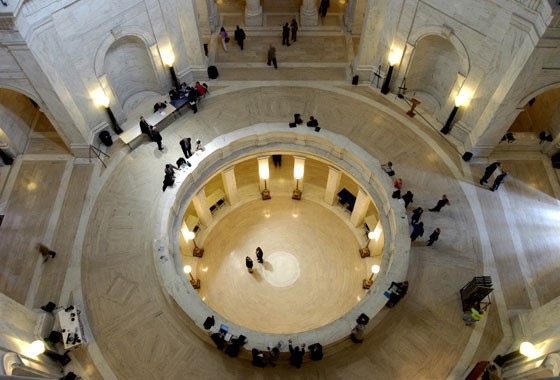 From The Well
Day 29
At the center of the West Virginia state Capitol is an area known as The Well.
It is the informal gathering place for lobbyists, reporters, constituents and lawmakers.
Centrally located between the chambers of the House of Delegates and Senate,
The Well is often where information is shared, alliances are formed, and deals are made.
Kinship foster program receives boost
Members of the House Health and Human Resources Committee have approved a bill that changes West Virginia's kinship foster care program and improves salaries for workers within the Department of Health and Human Resources (DHHR).
HB4344 requires DHHR to develop a program with child placement agencies to ensure that kinship families are assigned to agencies that can provide support services to the family.
The Department would need to create a database to track placements at an estimated cost of $8 million for the first year and $1.3 million per year to maintain.
Click here to read more from the Intelligencer in Wheeling.
Bill limiting abortions clears committee
The House Judiciary Committee on Wednesday considered HB4004, which amends West Virginia current prohibition on abortions occurring after 20 weeks by reducing the period to 15 weeks of gestation.
The bill is modeled on legislation recently enacted in Mississippi. The Mississippi law is currently the subject of a legal challenge pending before the U.S. Supreme Court.
The bill provides an exemption for medical emergencies or in the case of a severe fetal abnormality.
"Medical emergency" means any condition which, in the reasonable medical judgment of a patient's physician, so complicates the medical condition of a pregnant female that it necessitates the immediate termination of her pregnancy to avert her death or for which a delay will create serious risk of substantial and irreversible physical impairment. It does not include psychological or emotional conditions.
A physician who violates the prohibition would be subject to a disciplinary proceeding by his or her licensing board. Persons who are not physicians who perform an abortion would be subject to criminal penalties for the unlicensed practice of medicine. A woman who has an abortion is not subject to a criminal penalty.
Delegate Lisa Zukoff of Marshall County attempted to amend the bill to include an exception for rape or incest. The amendment was defeated on a voice vote.
During discussion of the bill, Delegate Mike Pushkin of Kanawha County argued that because the Mississippi law is currently subject to a challenge in the U.S. Supreme Court, the Legislature should wait for a decision in that case before amending the current prohibition.
On a voice vote, the committee recommended the bill for passage to the full House.
The committee then took up HB4005 which prohibits the sale, receipt, or transport of induced abortion fetal body parts. The bill defines an "induced abortion" as the act of using or prescribing any instrument, medicine, drug, or any other substance, device, or means with the intent to terminate the clinically diagnosable pregnancy of a woman with knowledge that the termination by those means will, with reasonable likelihood, cause the death of the fetus.
The bill exempts abortions if undertaken with the intent to save the life or preserve the health of the fetus; remove a fetus that died of natural causes; or remove an ectopic pregnancy.
A person violating provisions of the bill is guilty of a misdemeanor and is subject to a fine of not more than $1,000 or up to one year in jail or both.
The bill was recommended for passage by a voice vote.
DHHR legislative rules authorized
The committee took up and recommended for passage HB4126, which authorizes various Department of Health and Human Resources legislative rules.
Bill proposes higher juror pay
Finally, the Committee took up HB4280, which increases the amount paid to jurors from the current $15 to $40 per day to $80 per day.
The bill was reported to the full House with a recommendation that it be enacted. However, before going before the full House, the bill must be considered by the Committee on Finance.
Senate panel scrutinizes private funding
The Senate Judiciary Commitee on Tuesday took up HB4097, which deals with non-public funding for elections. Because of many questions, Counsel prepared a strike-and-insert amendment for Wednesday's meeting.
Chairman Charles Trump of Morgan County said Wednesday that he learned a new word from the bill – "Zuckerbucks." It was a reference to Facebook founder Mark Zuckerberg's efforts to support 2020 elections with private funds,
The bill was the subject of robust discussion previously, according to Chairman Trump, and he referred to the latest version of the bill as a comprehensive rewrite.
The original bill prohibited the Secretary of State, county commissions, clerks of county commissions, municipal governing bodies, and all other public officials and bodies responsible for overseeing, administering, or regulating an election in West Virginia from receiving, accepting, or expending gifts, donations, or funding from private individuals, corporations, partnerships, trusts, or any third party not provided through ordinary state or county appropriations without prior written approval by the State Election Commission.
"This strike and insert does add a bit of bureaucracy to the bill," said Donald Kersey, Counsel to the Secretary of State.
Requests would go through the Secretary of State rather than a local governing body going directly to the State Election Commission. The bill passed as amended.
Electronic voting urged for first-responders
HB4312 passed Senate Judiciary with a staff-suggested amendment. It would allow electronic voting for a qualified first-responder called to an emergency outside the county of residence and who cannot participate in an election by in-person and mail-in absentee voting.
A "qualified first-responder" means a person with specialized training who arrives and provides aid at the scene of an emergency, such as an accident, natural disaster, or act of terrorism. First-responders typically include emergency medical technicians, firefighters, law-enforcement officers, neighborhood assistance officers, and paramedics.
Senator Mike Romano of Harrison County asked Secretary of State Counsel Kersey to explain the electronic voting process. He explained that federal security standards are adopted, and the process is used by overseas military, overseas citizens, and disabled persons through an application (app).
Chairman Trump asked whether utility workers called to emergencies would qualify, and Kersey replied they would under his office's interpretation of the bill.
House committee reviews online marketing
The House Political Subdivisions Committee on Wednesday took up HB2908, adding a new article to require high-volume, third-party sellers to provide information to online marketplaces, including contact information and a government-issued photo ID.

The bill would require ongoing verification of information, and high-volume third-party sellers would have to disclose specified information to consumers.

The Attorney General is authorized under the bill to enforce the act. The committee passed the bill 9-5.
Bill seeks sewer rebates for filling pools
With HB4421, public service districts and municipalities included in public service districts would be required to refund for sewer rate charges for the filling of a privately owned swimming pool. Sewer charges typically are connected to water use.
During the House Political Subdivisions Committee on Wednesday, Delegate Evan Hansen of Monongalia County asked whether the bill would affect stand-alone municipal utilities, such as Morgantown Utility Board.
Delegate Erica Storch, lead sponsor, explained the bill had been intended to include municipalities but, as drafted, was inserted into the wrong section of code that covers only public service districts. An amendment put the bill into the correct section of code limits refunds to one a year, defines a swimming pool as being 18 inches deep, and limits the refund to 7,500 gallons.
The Committee seemed to be swimming in a pool of confusion. Delegate Hansen asked to see the written amendment. An amendment to the amendment authorized the utility to verify the pool would not be drained into a sewage system.
Delegate Hansen said Morgantown Utility Board already has a swimming pool policy to provide a credit and also to make sure the water is dechlorinated. The bill passed as amended but will go to Finance.
Senate passes bills restricting benefits
The state Senate passed two bills placing increased restrictions on unemployment benefits in West Virginia.
A majority of Senators voted for the two bills Tuesday. Both bills, seen as a matching pair, now go to the House of Delegates for consideration.
SB2 would limit the eligibility period for benefits to 12 weeks if the unemployment rate is below 5.5 percent. The rate would go up an additional week for each half-percent the unemployment rate goes up, to a maximum of 20 weeks.
SB3 would require four specifc job-search activities a week for people receiving unemployment benefits. Examples include registering with job placement offices, completing applications for employers "reasonably expected to have job openings," participating in job fairs or taking a civil service exam.
Click here for WVMetroNews coverage.
Governor signs nuclear ban rollback into law
Governor Jim Justice on Tuesday signed into law SB4, which rolls back the state's ban on relying on nuclear energy.
The Governor said in a written statement: "The bill I have signed today is a positive step in modernizing our state's regulatory environment, but we must work to ensure only positive outcomes from this legislation by continually evaluating any concerns and implementing best practices in any regulation that may be required."
Click here to read about reaction to the bill's passage.
PSC hits Suddenlink with $2.2 million fine
The state Public Service Commission has fined Suddenlink more than $2.2 million.
The PSC said it found the company had failed to provide safe, adequate, and reliable service to its West Virginia subscribers of its cable, Internet, and phone service.
The PSC also determined that Suddenlink intentionally reduced its maintenance work and budget, reduced the number of full-time employees, changed its method of communicating with customers, and ignored thousands of customer complaints, a release stated.
The commission also ordered Suddenlink to locate a call center in West Virginia. The company is to notify the commission within 90 days and detail its expected location and the anticipated date the center will open.
Click here to read more from WVMetroNews.
Mine cleanup funds heading to West Virginia
West Virginia is in line to receive $140 million this year to clean up abandoned mines and spur economic growth in coal communities.
The funds are part of the $725 million the federal government allotted this year to reclaim abandoned mine lands. The funds are part of the big infrastructure bill that Congress passed and the President signed into law.
The law allocates $11.3 billion in abandoned mine land funding over 15 years.
Click here to read more from WVMetroNews.
Access to some of the stories in From The Well may require a subscription to that news outlet. H2C Public Policy Strategists has no control over the terms and conditions other news outlets set to access their content.
Click here

for the full session calendar

of the 85th West Virginia Legislature.
Some information in this update is collected from the WV Legislature's Daily/Weekly Blogs.
Hartman Harman Cosco, Public Policy Strategists, LLC, (H2C) is a strategically assembled bipartisan lobbying firm comprised of legal, communications and policy professionals. H2C possesses the insight and intuition that only comes from decades of hands on experience leading community and statewide initiatives.