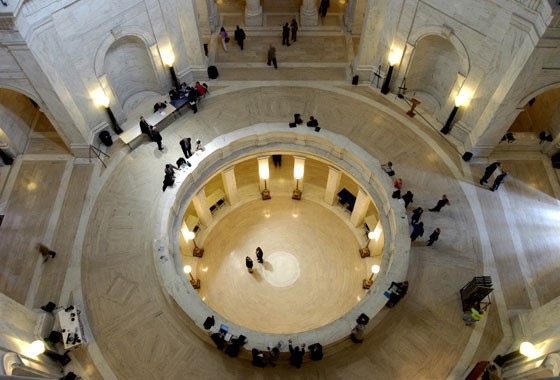 From The Well
Day 28
At the center of the West Virginia state Capitol is an area known as The Well.
It is the informal gathering place for lobbyists, reporters, constituents and lawmakers.
Centrally located between the chambers of the House of Delegates and Senate,
The Well is often where information is shared, alliances are formed, and deals are made.
Major changes proposed for system
The House Health and Human Resources Committee on Tuesday took up HB4344, a bill to update foster care regulation.
The bill requires the Department of Health and Human Resources (DHHR) to develop a program with child-placing agencies to ensure that each kinship family is assigned to a child-placing agency that is able to provide support services to that kinship family.
The bill also requires the Bureau for Social Services to implement a database to match foster parents with children who need families. Additionally, the Bureau must create a web-based information dashboard by Oct. 1, 2022.
The bill requires DHHR to conduct a study of centralized intake by contracting with a third-party independent expert to evaluate the centralized intake process.
The proposed legislation directs that a pay-equity salary adjustment and increase be provided to all direct-service employees, as defined by the commissioner, working within the Bureau of Social Services, regardless of where the direct-service employee reports to work. The salary adjustment is intended to 15% per direct-service employee. The Division of Personnel shall increase the salary ranges for each classification by 20%.
Finally, the bill makes several changes to the multi-disciplinary team process currently contained in law.
A fiscal note indicates the total cost of implementing the legislation is about $16.9 million.
Commissioner of the Bureau of Social Services Jeff Pack testified about the current low salaries paid to Child Protective Services workers and the extent of their training. Starting salaries for new hires is just over $30,000 a year despite many workers having obtained master's degrees.
Commissioner Pack indicated that WV Path is expected roll out in six months. WV Path is intended to replace the antiquated and inefficient FACTS system the Bureau currently uses.
The data dashboards required to be implemented by the proposed legislation probably will be developed in-house, and the bill requires it to be in place by October 1, 2022.
The Commissioner was unable to say with certainty what data would be available on the dashboard and indicated that he intended to convene a work group to determine the data to be available. Asked whether he intended to include foster and kinship family representation on the work group, the commissioner said he did.
Amy Kennedy-Rickman with the child placement agency NECCO testified her agency would find it difficult to provide services to kinship families.
Rachel Kinder, Director of Frameworks, an organization that recruits foster families and serves as a kinship navigator, testified about the number of families her organization serves and whether it had the ability to increase capacity to meet the demands of up to 300 families each quarter.
Pamela Woodman-Kaehler, Director of the West Virginia Foster Care Ombudsman Office, testified about the need for the provisions of the bill granting the Office a prohibition on being compelled to testify or produce evidence in any judicial or administrative proceeding with respect to any matter involving the exercise of her official duties.
She noted that confidentiality is essential to operation of her office because it offers persons contacting her office greater security that their complaints will not result in any adverse consequences. She told the committee that 19 of 24 states that have child welfare ombudsmen provide such a privilege from testifying in judicial or administrative proceedings.
The committee adopted a strike-and-insert amendment that made mostly non-substantive changes to the introduced bill. The committee, by a voice vote, approved a motion to report the bill to the full House with a recommendation that it be enacted. But the bill first must be considered by the Committee on Finance.
New legislation focuses on scope of practice
The Health and Human Resources Committee on Tuesday considered an originating bill related to scope of practice for health care professions.
Committee Counsel explained the bill would remove from law the scope of practice for 19 different health care professions and further prohibit their licensing boards from defining scopes of practice for licensees.
Rather than the Legislature or a licensing board determining the scope of practice, an individual licensee would be authorized to determine his or her scope of practice based on education and training and in conjunction with entities with which each licensee is affiliated.
Licensing boards would continue to have authority to license practitioners and discipline persons who violate standards or care who engage in practices that exceed their training and education.
Under questioning by a member of the Committee, Committee Counsel admitted that in some instances individuals who engage in conduct that exceeds their training and education may not come to light until after they have caused harm. Members of the public and other health care professional would be permitted to file complaints against persons who they believe have violated the law.
Delegate Mick Bates of Raleigh County made the point that instead of being defined by a board or the Legislature, scope of practice should be the individual in conjunction with credentialing or accrediting bodies making the determination.
Several members of the Committee expressed concern for public safety because in some cases it would be only after the fact that the public would learn that a practitioner was engaging in practices for which they were ill trained that resulted in injuries.
Delegates Mike Pushkin and Barbara Evans Fleischauer indicated they believe the bill goes too far too quickly.
Delegate Amy Summers and Ken Reed argued the bill is a much-needed cure to a broken process and should receive additional consideration.
The body voted 18-7 to recommend its passage, but first the bill must be taken up by the Committee on Government Organization.
Bill addresses Medical Examiner's duties
HB4584, a bill relating to the Office of the Chief Medical Examiner, proposed updates the current law as a result of the findings of a recent legislative audit.

The legislation grants additional authority to the Office of the Chief Medical Examiner to cremate and/or bury unidentified or unclaimed human remains from its facilities.

West Virginia Bureau for Public Health Commissioner Ayne Amjad testified about the current substandard facilities and efforts to locate new facilities and efforts to recruit pathologists.

She indicated her office is in discussions with West Virginia University about autopsies again being performed in Morgantown.

The committee approved the bill for enactment by a voice vote, however, the bill has a second reference to the Committee on the Judiciary.

HB3080

The committee next considered HB3080, which requires the Office of Health Facilities Licensure and Certification (OHFLAC) to license recovery residences.

The proposed legislation establishes licensing and operational requirements, mandates reporting, and authorizes rulemaking.

After questions and a long discussion with Emily Birckhead, Director of the Alliance for Recover Residences; Jolynn Marra, Director of OFLAC; and Dick Daugherty, Executive Director of the Kanawha Valley Fellowship Homes, consideration of the bill was laid over until a future meeting.

HB4393

Finally, the committee took up HB4393, a bill to increase the managed care tax if the managed-care organization receives a rate increase.

The committee approved a recommendation that the legislation be enacted by the full House. However, the bill must first be considered by the Committee on Finance.
Committee decides 2 bills need more work
The Senate Judiciary Committee contemplated two election-related bills Tuesday but decided to make changes in them before deciding their fate.
Committee members discussed HB4299 and HB4097 extensively. HB4299 prohibits intentionally obstructing or interfering with a voter.
HB4097 is intended to prohibit nonpublic funding for election administration and related expenses without prior written approval from the state Election Commission.
At least two Committee members expressed surprise that private entities are sending funds to states to support elections. Witnesses said $400 million in private funds made it into U.S. elections in 2020. They linked those funds to Mark Zuckerberg, a founder of Facebook.
"I can give money for a public election?" asked Senator David Stover of Wyoming County. "It may take me a week to wrap my mind around that."
Chuck Flannery, Chief of Staff and Deputy Secretary in the Secretary of State's Office, said the donation of private money for elections is a relatively new phenomenon in the nation but has not been a major factor in West Virginia.
Acting on a suggestion from Senator Robert Karnes of Randolph County, the Committee decided to amend the bill to direct any donated private money for elections to a specific fund.
Karnes expressed concern that a private source could use money to influence the outcome of elections. As an example, he said a private source could use money to support absentee voting in strategic jurisdictions.
Committee Counsel was to draft the amendment language before the next scheduled meeting on Wednesday, Feb. 9.
In debating HB4299, the Committee dug into specifics about what would constitute obstructing or interfering with a voter. The Committee voted to ask Counsel to draft language that clarifies the nature of an offense.
With trust ebbing, states examine voting laws
State legislators from both parties are aggressively pushing election reform, introducing a record number of bills relating to voter registration, voting by mail, voter ID, and election drop boxes.
The bills reflect a growing loss of trust in democratic systems, and some state legislatures want more control over the entire process.
Click here to read more from Governing magazine.
Bill altering tank definitions advances
The House Energy and Manufacturing Committee on Tuesday overwhelmingly approved Committee Substitute for HB2598, which alters the definitions of regulated above-ground storage tanks.
The Committee dispensed with sending the bill to the House Health and Human for additional consideration.
Jason Wandling, General Counsel for the Department of Environmental Protection, testified the agency had worked on the legislation with the House Energy and Manufacturing Committee and supported the bill. He said he believes it will give tank owners some operational relief and still allow protection of the state's waters.
Delegate Evan Hansen of Monongalia County asked about the contents of tanks that would be covered under the bill. Mr. Wandling said 12.9% contain brine; 35% contain a mixture of brine, oil, and gas; 48% contain oil; and 2.7% hold natural gas condensates.
Delegate Hansen said he believes the tanks' contents pose risks to water, and he indicated capable well operators should be able to afford tank inspections.
Bill addresses taxation on gas production
A bill considered by the House Finance Committee on Monday would give the State Tax Department an opportunity to develop a rule for determining tax assessments for natural gas-producing properties in West Virginia.
The committee recommended HB4162 for passage. It authorizes the State Tax Department to promulgate a legislative rule relating to valuation of property that produces oil, natural gas, and natural gas liquids. It also states the legislative rule previously filed by the State Tax Department is not authorized.
HB4162 comes nearly one month after the West Virginia Legislature's Rule-Making Review Committee moved to not approve an earlier legislative rule submitted by the State Tax Department regarding assessments of natural-gas producing property.
Click here to read more.
House bill updates telepsychology compact
The House of Delegates on Tuesday voted 93-0 to pass HB4369, which updates the telepsychology compact West Virginia has with other states.
The bill says states that members of the compact shall recognize the right of a psychologist, licensed in a Compact State in conformance with HB4369, to practice telepsychology in compact States where the psychologist is not licensed.
Delegates did not discuss the bill. Seven members were absent.
Evan Jenkins leaves court, hints future run
Former state Supreme Court Justice Evan Jenkins, who officially resigned Monday, said he may run for political office in the future.
"I am not ruling that out. Obviously, I seek opportunities to serve when the need is there and I feel like I can contribute," Mr. Jenkins said on Monday's MetroNews "Talkline."
Jenkins, who previously served as a congressman representing West Virginia's Third District, did not officially announce any campaign plans but did indicate it was not the reason why he left the high court.
Chief Justice John Hutchinson appointed Circuit Judge Alan Moats to sit temporarily on the bench until Governor Jim Justice announces a permanent replacement.
Judge Moats, a Grafton native, serves in the 19th Judicial Circuit, which covers Barbour and Taylor counties. He has been in that role since 1997.
Click here to read WVMetroNews coverage.
Bill opposes teaching Critical Race Theory
The House Education Committee has recommended passage of HB4011, which bill opposes teaching Critical Race Theory in West Virginia public schools.
The bill, an article of which is called the Anti-Stereotyping Act, also would require schools to post all training materials and curriculum online pertaining to non-discrimination, diversity, equity, inclusion, race, ethnicity, sex, bias, or any combination of those concepts.
In addition, it would prohibit the promotion or endorsement by school employees and county school boards of stereotypes based on race, sex, ethnicity, religion, or national origin.
The committee cut off debate on the bill, and that prompted criticism from some Committee members.
Click here to read more from the Parkersburg News and Sentinel.
Access to some of the stories in From The Well may require a subscription to that news outlet. H2C Public Policy Strategists has no control over the terms and conditions other news outlets set to access their content.
Click here

for the full session calendar

of the 85th West Virginia Legislature.
Some information in this update is collected from the WV Legislature's Daily/Weekly Blogs.
Hartman Harman Cosco, Public Policy Strategists, LLC, (H2C) is a strategically assembled bipartisan lobbying firm comprised of legal, communications and policy professionals. H2C possesses the insight and intuition that only comes from decades of hands on experience leading community and statewide initiatives.