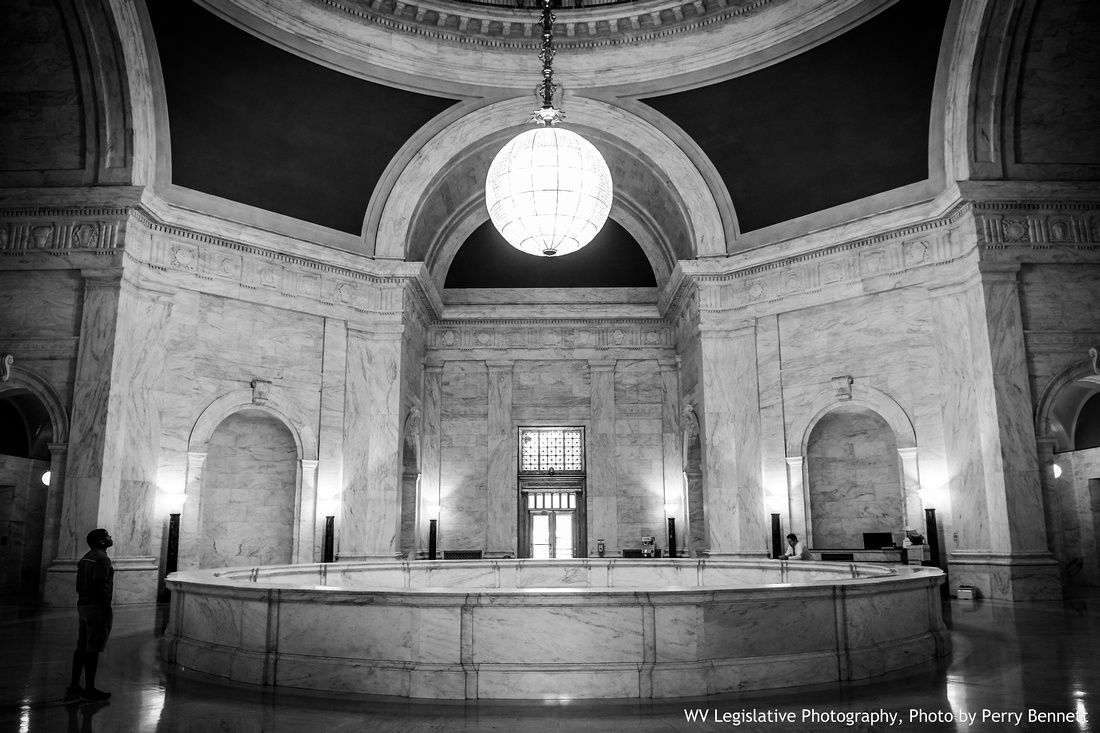 At the center of the West Virginia state Capitol is an area known as The Well.It is the informal gathering place for lobbyists, reporters, constituents and lawmakers.
Centrally situated between the chambers of the House of Delegates and Senate,
The Well is where information is often shared, alliances are formed, and deals are made.
86th West Virginia Legislature
February 1, 2023
Welcome! Click 
here
 to subscribe to HC/GR Morning Clips.
Renovation underway at 2 Turnpike plazas
A major project is underway to renovate the Beckley and Bluestone travel plazas on the West Virginia Turnpike.

The West Virginia Governor's Office said food, restroom, and parking facilities will remain available during renovations. Tamarack Marketplace, which is next to the Beckley travel plaza, also will remain open during construction with expanded services for travelers.

Click here to see a video that explains the project.

Areas USA is managing the projects. The company specializes in developing travel-related sites, such as highway facilities and airports.

"We're fortunate at the Beckley travel plaza off Exit 45 that we do have Tamarack Marketplace located right there," said Jeff Miller, Executive Director of the West Virginia Parkways Authority. "They have a full-service restaurant, restrooms, retail, and grab-n-go area."

Miller said beginning Saturday, April 1, Tamarack Marketplace will expand its hours and be open from 9 a.m. to 7 p.m. seven days a week.

Restroom renovations at Tamarack Marketplace will be completed in a few weeks. The Tamarack Marketplace will also open Country Roads Market, an addition aimed at supplementing the needs of Interstate travelers with convenience-store offerings, such as food, drinks, and car items.

Governor Jim Justice announced in November the renovation plans after the West Virginia Parkways Authority officially approved them. Plans were based on results of a 2021 survey of Turnpike travelers.

Beckley and Bluestone travel plazas will be rebuilt from the ground up in a new, more user friendly style, the Governor's Office said. The redeveloped travel plazas will include expanded food concepts, around-the-clock Mountain State Market convenience stores, outdoor dining options, expanded parking for tractor-trailers and passenger vehicles, electric-vehicle charging stations, picnic areas, and pet relief areas. The Beckley Travel Plaza will offer a drive-through, increased restroom facilities and bus parking, as well as enhanced tourist information centers.

Work is expected to be complete by late 2024.

Mr. Miller said drivers of tractor-trailers will not have to look for alternative locations from Beckley and Bluestone for meeting, switching equipment, and fueling.

The Morton Travel Plaza near Burnwell will remain open until renovations to that facility begin in 2025.
Governor says he's willing to compromise
Governor Jim Justice said Wednesday that he is willing to negotiate with senators who might have doubts about his proposed 50% percent personal income tax cut over three years.

"We'd absolutely compromise," Justice said during a radio town hall on WVMetroNews' "Talkline."

Governor Justice has been promoting his proposal of an initial 30% personal income tax cut, then 10 percent the following year and 10 percent the third year.

During the current legislative session, the House of Delegates overwhelmingly passed a bill supporting a tax cut. The Senate has been more deliberative.

Click here to read more from WVMetroNews.
House bill backs infrastructure development
On Wednesday, the House Committee on Political Subdivisions adopted three bills.

First, House Bill 3111 authorizes the Office of Economic Development to designate a political subdivision as an Infrastructure Ready Jurisdiction if the political subdivision has no other permitting requirements than those required by state law.

A certified political subdivision is entitled to receive a 5% preferential scoring on all state grants unless preferential scoring is explicitly forbidden. The bill has a second reference to the House Committee on Technology and Infrastructure.

The Committee also considered House Bill 2498, which would require medication-assisted treatment programs to have written policies concerning community relations. The bill intends to minimize an existing or new program's negative impact on a community and plan for change and program growth.

The policies must include:

1.   community needs and impact when selecting a site;

2.   community input on the potential impact a program may have on a neighborhood;

3.   maintenance of a clean and orderly facility that does not impede pedestrian or traffic flow;

4.   identification and maintenance of communication with community leaders for the purpose of fostering good community relations.

A program also is required to publish a Class I legal advertisement with a public notice of its intent to locate at a particular location.

The Committee recommended passage of the bill. However, it must first be considered by the House Committee on Health and Human Resources.

Finally, the Committee took up House Bill 2576, which prohibits municipalities from assessing a user fee on an employee not present in the municipality in their job performance.

Susan Economou, Deputy Executive Director of the West Virginia Municipal League, indicated that her organization had significant concerns about the bill's ambiguity. For example, the term "user fee" is undefined. As a consequence, it is unclear as to the fees being prohibited by the legislation.

The Committee adopted an amendment intended to clarify that an elected official's place of work is his or her primary residence in the legislative district that he or she represents. A second amendment struck the need for an employer to provide the municipality with an affidavit that the employee was not working within the municipality.

The amended bill has a second reference to the House Committee on the Judiciary.
House Committee advances 3 bills
The House of Delegates Education Committee adopted three bills on Wednesday.

House Bill 2137 provides a personal representative of an active, full-time county school board employee's estate to receive a lump-sum payment for the deceased's accrued personal leave.

The lump sum is based on the employee's rate of pay at the time of death. The Committee adopted an amendment by Delegate Sean Hornbuckle of Cabell County to ensure the lump-sum payment is to be made within six months of the employee's death.

The state Board of Education is authorized to promulgate a rule to effectuate the provisions of the section.

Delegate Hornbuckle also urged the House Finance Committee to ensure survivors receiving the money to receive favorable estate tax considerations.

 

House Bill 3055 restructures public school math programming to equip students to enter a career in the trades. Current programming is a technical transition math class for secondary students in the career and technical pathway.

HB3055 establishes the class for all public-school curriculum for students interested in careers in the trades. The class pertains to workforce mathematics curricula, including fractions, conversion from fractions to decimals, application of measurement, reading blueprints, geometry, and other math skills needed to succeed in the trades.

An instructor must meet the same qualifications as needed to teach current trade classes in public schools. The class can be taken as a personalized math credit to meet graduation requirements.

House Bill 3192 continues efforts to move the functions of the Center for Nursing to the Higher Education Policy Commission, based on 2018 legislation that established an HEPC office of Nursing Education and Workforce Development. The office is responsible for addressing education, recruitment, and retention of nurses in West Virginia.

The office is designated as the state's nursing workforce center. Additionally, costs associated with the administration of Nursing Scholarship and Workforce Fund are placed under the direction of the HEPC chancellor.

HB3192 changes the name of the Center for Nursing Fund to the Nursing Scholarship and Workforce Fund and reallocates funding sources, in part, by omitting supplemental license fees for both registered professional nurses and licensed practical nurses. Rather, money for the fund would be appropriated by the Legislature as augmented by private sources or by political subdivisions of the state under agreements requiring scholarship recipients to practice nursing in the state or political subdivision for a predetermined period.

House Education Chairman Joe Ellington of Mercer County said the Committee will meet Monday to hear a presentation from the state Department of Education. In its presentation to Senate Finance Tuesday, WVDE representatives discussed public school enrollment, which continue to decline, safe schools funding, and the state and local budgetary effects of county boards emerging from the COVID pandemic.

Senate Finance Committee members questioned WVDE staff about federal pandemic funds, PEIA funding, Payment in Lieu of Taxes (PILOT) funding and the effects on state and local budgets.
House OKs bill addressing student discipline
The West Virginia House of Delegates passed a bill Tuesday that would spell out specific requirements for student discipline. It has raised concerns with both Democrat and Republican lawmakers.

House Bill 2890, which would modify student discipline in the classroom, passed the House Tuesday 79-16. It now goes to the state Senate.

HB2890 requires students in kindergarten through 12th grade who are removed from the classroom for disruptive behavior to be prohibited from returning to the classroom the remainder of the day and count as an in-school suspension. If the student has to be removed from class three times in one month, the student must receive an out-of-school suspension.

The bill also empowers principals to move students to different classrooms if that might help alleviate disruptive behavior.

Click here to read more from The Intelligencer in Wheeling via the West Virginia Press Association.
Bill would add state gas, oil well inspectors
A bill working its way through the Senate could more than double the number of oil and gas well inspectors working across the state.

Senate Bill 448 proposes three means of raising money for the chronically underfunded Office of Oil and Gas to pay for more inspectors. OO&G relies exclusively on well application fees, unlike other offices that also charge various annual fees. And it gets no federal funding.

Department of Environmental Protection Deputy Secretary Scott Mandirola said the DEP worked this agreement out with the top eight oil and gas producers in the state. The negotiations began after the last session, following several years of failed bills.

Click here to read more from The Dominion Post in Morgantown via the West Virginia Press Association.
Access to some of the stories in From the Well may require a subscription to news outlets. Hartman Cosco Government Relations has no control over the terms and conditions that news outlets set to access content.
2023 Legislative Session
35th Day — February 14: Last day to introduce bills in the House. House Rule 91a does not apply to originating or supplementary appropriation bills, and does not apply to Senate or House resolutions or concurrent resolutions.
41st Day — February 20: Last day to introduce bills in the Senate. Senate Rule 14 does not apply to originating or supplementary appropriation bills and does not apply to Senate or House resolutions or concurrent resolutions.
47th Day — February 26: Bills due out of committees in house of origin to ensure three full days for readings.
50th Day — March 1: Last day to consider bill on third reading in house of origin. Does not include budget or supplementary appropriation bills.
60th Day —  March 11: Adjournment at midnight.
Some information in this update is collected from the WV Legislature's Daily/Weekly Blogs.
Hartman Cosco LLC Government Relations is a strategically assembled bipartisan lobbying firm comprised of legal, communications and policy professionals. Hartman Cosco possesses the insight and intuition that only comes from decades of hands on experience leading community and statewide initiatives.