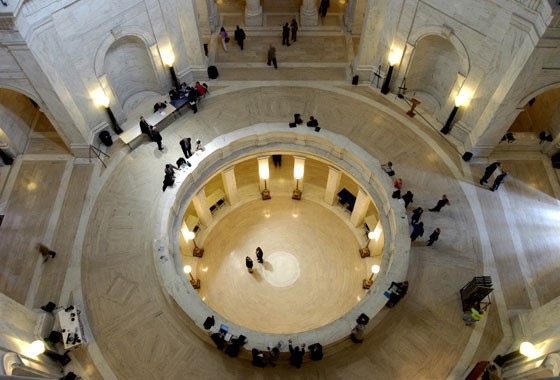 From The Well
Day 59
At the center of the West Virginia state Capitol is an area known as The Well.
It is the informal gathering place for lobbyists, reporters, constituents and lawmakers.
Centrally situated between the chambers of the House of Delegates and Senate,
The Well is where information is often shared, alliances are formed, and deals are made.
State's leader sees West Virginia as solution
Governor Jim Justice delivered an address Friday from the Capitol in Charleston about America's energy crisis and how President Biden must act now by tapping into West Virginia's rich natural resources to make America energy independent again.
The Governor said the Biden Administration is putting a chokehold on America's energy supply. He said dependence on hostile foreign countries — including Russia — for critical resources has put America in a position where aiding in Ukraine's defense is strategically precarious for the security of the country and the free world.
"None of us would have ever really imagined that, because of a madman and evil in the world, that we could possibly be on the brink of World War III. But here we are," Governor Justice said. "We have a colossal problem in this world right now. Energy has become weaponized.
"There's only one solution. This country needs to be energy independent in every single, solitary way," the Governor continued. "That independence starts right here in little ol' West Virginia. The very resources that we have in abundance in this state – coal, oil, and gas – are exactly what will save the world … ."
Click here to read more from the Governor's Office.
Senate approves 10% pay increase
The Senate concurred with technical amendments the House of Delegates made to SB172, which grants county officials a 10% salary increase effective July 1, 2022. The Governor still must sign the bill for it to be in effect.
The vote was nearly unanimous. Senator Mike Romano of Harrison was excused from voting because he is a candidate for County Commission.
Committee revisits 2 unfinished bills
The Senate Judiciary Committee met Friday to complete two unfinished bills that were reported to the floor on Thursday and brought back to committee. Please see below.
Language added to pecuniary interest bill
A strike-and-insert amendment for HB4642 dealt with issues that arose during Thursday's meeting regarding the pecuniary interest of county and district officers, teachers, and school officials in contracts.
New language was added to require an official to obtain permission from the Ethics Commission and recusal from voting if the individual is in a decision-making position.
Delegate Brandon Steele of Raleigh County, lead sponsor, told the Committee the current criminal penalty keeps West Virginia-owned businesses from bidding if owned by, for example, a county commissioner or school board member.
He commended the Senate Judiciary Committee for improving the bill by requiring Ethics Commission approval and recusal from voting.
Senator Mike Caputo of Marion County raised concerns, saying, "Sometimes in politics, perception is reality."
Delegate Steele agreed that those were concerns that members of the House of Delegates raised as well, but the Senate changes further alleviated those concerns.
Senator Richard Lindsay of Kanawha County added some humor, saying, "I want it put on the record that Delegate Steele said we made an improvement in the bill."
Senator Jack David Woodrum of Summers County successfully amended the bill to refer to an Ethics Commission opinion rather than approval. The bill passed as amended.
Legislators clarify flying safety bill
Discussion continued Friday on a strike-and-insert amendment for HB4846, relating to flying under the influence.
Counsel explained the FAA told the Department of Transportation that certain language must be in place. The strike-and-insert amendment reinserts a current article of existing law.
Senator Robert Karnes of Randolph County asked Counsel, "Can you direct me where to find this FAA regulation?"
Counsel deferred to Rita Pauley, Assistant Commissioner of the Division of Highways, who responded that the FAA depends on states to have laws in place for local law enforcement so they can do testing.
"The state must have a mechanism to come test the pilot or crew member," she said.
Senator Karnes proposed an amendment to delete a portion of the bill that already is a federal regulation, removing Section 9 about "operating an aircraft at a low altitude or in a careless or reckless manner."
Senator Ryan Weld of Brooke County spoke against the amendment, noting the language is part of very old law (1947), and no one has brought it to his attention that it needs to be changed. He reminded the committee of singer Patsy Cline's fatal plane crash and the need for a pilot to be aware of the topography around him.
Senator Mark Maynard of Wayne County also spoke in support of the amendment, giving the example that "a friend of mine flies low enough to read road signs so he knows where he's at."
The amendment passed on a voice vote, and the bill passed as amended.
At the conclusion of the meeting, Senator Maynard recognized and applauded "his favorite Senator from Harrison," Mike Romano, on the occasion of his last Judiciary Committee meeting.
Senator Romano reminded him that he's the only Senator from Harrison.
Chairman Trump said he planned a get-together to recognize staff, Senator Romano, and Senator Robert Beach of Monongalia County, who, like Senator Romano, also is leaving the Senate.
Mutual insurance company gets green light
After long debate, the House of Delegates passed a bill to create an insurance program meant to be a buffer against an avalanche of potential mine reclamation liability.
The bill would establish a mining mutual insurance company on the strength of$50 million in seed money from the state. SB1 has received strong support from Senate President Craig Blair, who testified in multiple committees.
After more than an hour of discussion, delegates passed the bill today on a 61-36 vote. Supporters in the Republican supermajority said the bill is necessary to assure West Virginia doesn't get caught with hundreds of millions of dollars in liability in an era of turbulent energy markets.
Click here to read more from WVMetroNews.
House supports barring anti-fossil fuel banks
The House of Delegates passed a bill described as defending West Virginia's economic interests from financial institutions engaged in boycotts of energy companies.
"For God's sake, don't put our tax dollars to use in banks that want to harm our economies and harm our miners and harm our coal operators and harm this state's general revenue fund and every last dime we've been trying to appropriate for all the programs everybody loves," said Delegate Daniel Linville of Cabell County.
Delegates passed the bill on an 80-14 vote. The state Senate passed the bill in late January but will still need to consider whether to agree with or reject changes the House made.
Treasurer Riley Moore advocated for the bill in legislative committees and has made a series of appearances on high-profile cable news programs to discuss financial institutions hedging against fossil fuel investment.
Click here to read more from WVMetroNews.
Access to some of the stories in From The Well may require a subscription to news outlets. H2C Public Policy Strategists has no control over the terms and conditions news outlets set to access their content.
Click here

for the full session calendar

of the 85th West Virginia Legislature.
Some information in this update is collected from the WV Legislature's Daily/Weekly Blogs.
Hartman Harman Cosco, Public Policy Strategists, LLC, (H2C) is a strategically assembled bipartisan lobbying firm comprised of legal, communications and policy professionals. H2C possesses the insight and intuition that only comes from decades of hands on experience leading community and statewide initiatives.