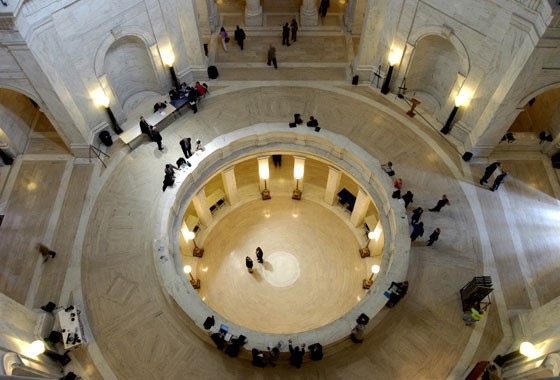 From The Well
Day 57
At the center of the West Virginia state Capitol is an area known as The Well.
It is the informal gathering place for lobbyists, reporters, constituents and lawmakers.
Centrally situated between the chambers of the House of Delegates and Senate,
The Well is where information is often shared, alliances are formed, and deals are made.
Senate panel considers changes in bill
After alarms went out about whether a key Committee would consider a broad-ranging bill to support vulnerable children, Senators took up a version that changed significantly.
A changed bill that came before the Senate Finance Committee Wednesday afternoon proposed removing 15% pay raises meant to recruit and retain Child Protective Services workers. The latest version removed a dashboard meant to help sort out information about foster children in West Virginia.
Members of the Committee started discussion of the changed bill but wound up laying it over until Thursday, when focus on the bill will resume with anticipated witnesses about how aspects of the bill might work.
However, as of press time, the bill was not included in the posted agenda for tomorrow.
Click here to read more from WVMetroNews.
Senate Committee alters legislation
The Senate Judiciary Committee began its last official day of meetings Wednesday with passage of a strike-and-insert amendment for HB4377, updating and making significant revisions to the involuntary commitment process.
As explained by Counsel, the strike-and-insert amendment creates more of a study process than the House bill did when it came over. The bill provides for a pilot project in Ohio and Cabell counties with the addition of Berkeley County from a successful amendment proposed by Senator Patricia Rucker of Jefferson County.
The House bill had included all law enforcement in transportation for involuntary commitments, but the Senate's version kept Sheriffs as the transportation providers until the study of alternative transportation providers is completed by the July 1, 2022 deadline.
Senator Ryan Weld of Brooke County amended the bill successfully, adding, "Effective July 1, 2022, DHHR shall reimburse the Sheriff, DOC, and other law enforcement agencies for the costs of transporting a patient who has been involuntarily committed."
Senator Mike Woelfel of  Cabell County spoke in support of Weld's amendment after apologizing for being late because, "I-64 was one of the seven circles of hell this morning."
Senator David Stover of Wyoming County also supported the amendment due to the costs of overtime. Counsel was asked whether of all the various stakeholders who have been in discussions have seen the strike-and-insert amendment, and she responded they have not.
Board, superintendent oppose amendment
The West Virginia Board of Education and Superintendent Clayton Burch said Wednesday they oppose House Joint Resolution 102, which the adopted March 4 to allow voters to decide on a constitutional amendment that would give the Legislature authority to review and approve the board's actions.
The proposed amendment is scheduled to be on the ballot in November.
The statement from the Board and Burch said the Board of Education offers expert guidance and has the ability to respond promptly to the needs of educators and students.
In addition, teacher union leaders expressed aggravation with the Legislature.
Click here to read more from WVNews.
Click here to read more from West Virginia Public Broadcasting.
Click here to read more from WVMetroNews,
Full House to consider 'The Anti-Racism Act'
The House Judiciary Committee early Wednesday passed "The Anti-Racism Act," which has been prompted by the national conversation about the role of race in society.
SB498, which has drawn vigorous debate, now goes to the full House of Delegates during the final few days of the regular legislative session. The bill passed the state Senate, but Delegates changed it significantly.
Delegate Chris Pritt of Kanawha County, who has actively supported versions of the legislation, said the bill is necessary to prevent indoctrination in schools.
"And so if we don't get a handle on this — and I've said this before, and I'll say it again, this a pro-public school bill — if we don't get a handle on this you know what's going to happen? Our public schools are going to be undermined. The faith in our public schools is going to be discounted," Pritt said.
Click here to read more from WVMetroNews.
House OKs bill backing third-grade success
HB4510 sets a goal of ensuring that third grade students are proficient in reading and math before moving on to the fourth grade.
The bill passed the House of Delegates 84-11.
The bill says that students who don't show grade level proficiency in reading and math by the end of the third grade become increasingly prone to not succeed in successive grades, and also prone to drop out before graduation.
House Bill 4510 calls for interventions regarding reading and math skills – then relies, with some exceptions, on teacher assessments of 3rd graders under consideration of being held back.
Click here to read more from West Virginia Public Broadcasting.
Senate panel removes criminal penalties
Some contention concluded the Senate Judiciary Committee's meeting Wednesday over a strike-and-insert amendment for HB4293, which, as originally introduced, would have created felonies for multiple mailings of absentee ballot applications unless they were specifically requested.
The felony penalties were reduced to misdemeanors before passing the House.
The strike-and-insert amendment in Senate Judiciary took out all criminal penalties and simply stated that the County Clerk is authorized to mail an application only when that voter requests it.
Senator Mike Caputo of Marion County and Senator Mike Romano of Harrison County discussed the problems it might create for County Clerks when a person called and asked for an application for their spouse also or for their children away at college.
Counsel said under the bill, the County Clerk could not fill their request.
Senator Romano asked Donald Kersey, General Counsel for the Secretary of State, whether there were improper or illegal applications requested on a mass basis or are legislators addressing a problem that doesn't exist?
Kersey responded that he was not aware of a problem.
Counsel was asked whether the bill would keep the Governor from use of broad absentee voting in an emergency situation. She responded that she thought it would, but Mr. Kersey disagreed because the Governor can relax a statute in an emergency situation.
Chairman Charles Trump called Julie Archer with West Virginia Citizens Action Group to the podium and asked her what she thought of the bill.
"We had lots of concerns about the bill when it had criminal penalties," saying it would have a chilling effect on people just trying to help someone vote. She emphasized that it was good to have the misdemeanor penalties out of the bill because it puts an undue burden on people and raises freedom-of-speech issues if somone can't distribute a public document.
Senator Robert Karnes of Randolph County proposed an amendment to put the misdemeanor subsections back into the bill.
Chairman Trump gave an example that a County Clerk could be prosecuted for sending "my wife and I" two applications when only one person requested it.
Senator Ryan Weld of Brooke County pointed out that he could print out 10 and give them out at his mom's birthday party, but if he gave out 11, "I've committed a misdemeanor."
Karnes' amendment passed 8-6.
Chairman Trump immediately said, "The bill is off the agenda," followed up with Vice Chairman Weld moving to adjourn.
Bill would eliminate most special elections
Several Senators cast no votes after a very long discussion, but the Senate Judiciary Committee passed the strike-and-insert amendment for HB4353, which relates to On-Cycle Elections.
The Chairman pointed out the printed version was 72 pages long.
Counsel reviewed the bill, explaining it eliminated most special elections and provided a few examples of the many types of special elections: modifying a county commission, school levy and renewals, zoning ordinances, and sale of alcohol within a county, just to name a few.
The bill, as introduced, mandated most municipal elections to be on the regular cycle ballot, but it is now permissive for municipalities and also requires agreement between the county and the municipality.
Senator Mike Caputo of Marion County expressed concern about how the bill would affect the County Clerks and asked whether it would be a nightmare for them.
Donald Kersey, General Counsel for the Secretary of State, explained the requirement of an agreement between the municipality and the County Commission, noting that in many cases there are "substantial logistical problems" to have both on the same ballot.
The lead sponsor of the bill, Delegate Douglas Smith from Mercer County, said he introduced the bill after learning from the Mercer County Clerk that a recent special school board levy election cost $80,000.
"If it was on the regular ballot, the cost would be zero," he said.
Delegate Smith added that he did further research, and 22 of 44 counties do special elections for school board levies that would cost nothing if they were on the regular ballot. He learned from the Secretary of State's office that a Clay County special election had a turnout of 256 voters and cost $14,000, and a 2020 special levy election in Harrison County cost $101,000.
Senator Mike Romano of Harrison County was concerned about the outcome of levy elections and proposed an amendment to make it permissive for levy elections to be on the regular ballot, similar to municipalities.
Senator Ryan Weld of Brooke County countered, "Good policy is good policy" and would pass regardless of when the election is. He gave an example of an 18.5% turnout in a levy election in his county. After further discussion, Senator Romano withdrew his amendment.
Senator Jack Woodrum of Summers County stated that shared costs should be required and made the amendment.
"One commission agrees, and then the commission changes and they disagree with sharing costs," said Woodrum, a former Summer County Commissioner. HIs amendment was adopted.
Senator David Stover, a former Wyoming County Circuit Clerk, noted that for four years of his 16 years as a Circuit Clerk, he had election duties and said, "I'm getting such a disquieting feeling about what we're doing. Is it broken enough to take this chance?"
Senator Weld spoke in support, saying it might attract more interest from voters for municipal and special elections that normally have low turnout.
Police & Firefighter Retirement Funds
The Senate Judiciary Committee quickly passed HB4433 Tuesday. providing that retirement benefits from the Policemen's and Firefighters Retirement Funds are not subject to execution but provides an exception for certain domestic relations orders.
Counsel said the bill makes those funds consistent with other similar retirement fund benefits.
Expungement
The Senate Judiciary Committee on Wednesday passed a strike-and-insert amendment for HB4522, relating to the expungement of criminal records.
Counsel said under existing law, there is no automatic expungement mechanism. If the court enters an order of acquittal, the bill provides that mechanism without any action by the person.  It clarifies that persons found not guilty by reason of mental illness, mental retardation, or addiction are exempt from the provisions of the section and that persons with prior felony convictions are not eligible for expungement.
Prescriptive Authority
A strike-and-insert amendment for HB4111 passed the Senate Judiciary Committee on Wednesday, revising the prescriptive authority of physician assistants and registered professional nurses.
The Committee worked with the strike-and-insert amendment as it came from the Senate Health Committee and made only stylistic changes.
Joyce Wilson, representing the West Virginia Nurses Association, said the organization agrees with the bill and said it is especially helpful to be able to prescribe a Schedule 3 drug, such as Saboxone, with a refill rather than give a substance-abuse patient a full 30-day supply.
Pooling bill passes House of Delegates
The House of Delegates passed a multifaceted bill Wednesday that attempts to strike a balance on the intricacies of drilling rights.
SB694 came about through long negotiations by gas operators, property owners, and mineral rights owners.
The bill passed 55-44. The state Senate already passed the bill but would now need to agree or reject changes made in the House.
The bill seeks to address what to do when a company wants to drill on a tract where some owners are unwilling to participate or can't be located.
"I wish it was an easy problem," said Delegate Mark Zatezalo of Hancock County.
He said the bill would benefit people who want to develop their property but who can't because of the decisions of others. "The bill came from people who were starting to see the reality set in and decided they had better do something," he said.
Click here to read more from WVMetroNews.
Tank inspection bill falls short in committee
A House of Delegates oil and gas bill that caused some concern in the environmental community met its apparent end Tuesday in the Senate Energy Committee.
HB2598 intended to exclude from the Aboveground Storage Tank Act's inspection requirements for tanks that have a capacity of 210 barrels (8,820 gallons) or less and contain brine water or other fluids produced in connection with oil and gas production within a zone of critical concern.
After hearing witnesses for and against the bill, Senator Eric Nelson of Kanawha County moved to table it. In a voice vote with no audible votes against, the motion succeeded, and the bill will not advance to the Senate floor.
The bill's lead sponsor, Delegate John Kelly of Wood County, told the Senators that small and marginal oil and gas producers who operate conventional vertical wells face financial difficulties with current inspection processes.
Click here to read more from West Virginia Press Sharing and the Morgantown Dominion-Post.
Senate votes to restore movie tax credit
Senators voted on Wednesday to bring back a tax credit designed to lure the film industry to West Virginia.
They passed HB2096 32-1. The House of Delegates passed the bill last month.
Passage of the bill reverses — and also seeks to provide reassurance about — a repeal of the tax credit in 2018. 
The elimination of the film tax credit occurred when West Virginia was facing budget shortfalls that required identifying spending the state could sacrifice. At the same time, officials who examined the tax credit's performance concluded it wasn't paying off.
That year, the Legislative Auditor's staff recommended doing away with the credits.
Click here to read more from WVMetroNews.
Access to some of the stories in From The Well may require a subscription to that news outlet. H2C Public Policy Strategists has no control over the terms and conditions other news outlets set to access their content.
Click here

for the full session calendar

of the 85th West Virginia Legislature.
Some information in this update is collected from the WV Legislature's Daily/Weekly Blogs.
Hartman Harman Cosco, Public Policy Strategists, LLC, (H2C) is a strategically assembled bipartisan lobbying firm comprised of legal, communications and policy professionals. H2C possesses the insight and intuition that only comes from decades of hands on experience leading community and statewide initiatives.