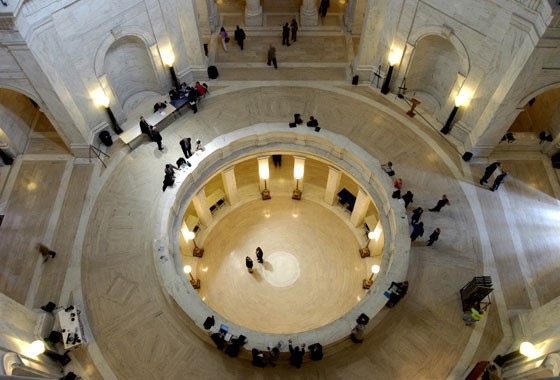 From The Well
Day 49
At the center of the West Virginia state Capitol is an area known as The Well.
It is the informal gathering place for lobbyists, reporters, constituents and lawmakers.
Centrally located between the chambers of the House of Delegates and Senate,
The Well is often where information is shared, alliances are formed, and deals are made.
Senate bill supports volunteer departments
The West Virginia Senate passed a bill this week to help support the state's volunteer fire departments.
Members of the Senate noted that VFDs have been struggling as the result of financial support.
SB420, which passed overwhelmingly, is now going to the House of Delegates foe consideration.
Click here to read more from the Huntington Herald-Dispatch.
Senate Committee advances Governor's bill
The Senate Finance Committee signed off Monday on its version of Gov. Jim Justice's proposed budget for the next fiscal year with some changes while keeping the final price tag the same as the Governor's.
The Committee recommended passage of SB250, the budget bill for fiscal year 2023 beginning on July 1.
SB250 maintains the same total general revenue amount set by Justice in the budget he presented to the Legislature on Jan. 12, the first day of the 60-day legislative session.
Click here to read more from the Parkersburg News and Sentinel.
Senators announce service expansion funds
U.S. Senators Joe Manchin and Shelley Moore Capito announced this week that $19.7 million from the U.S. Department of Commerce's National Telecommunications and Information Administration (NTIA) will support the expansion of broadband services in West Virginia.
"The Covid-19 pandemic has highlighted the importance of reliable, affordable broadband access for all West Virginians and Americans. We know that at least 258,000 West Virginians have no broadband access, and we think that number is likely much higher," Senator Manchin said.
Click here to read more from WBOY-TV.
Governor Justice corks sales of 4 brands
Governor Jim Justice has signed an Executive Order that directs the West Virginia Alcohol Beverage Control Administration (ABCA) to no longer buy and sell Russia-produced liquor until further notice, his office announced.
Governor Justice directed the ABCA Commissioner to order and make Ukrainian made liquor brands available for purchase by licensed retail liquor outlets depending on their availability.
The action came after Russia invaded Ukraine. Other states, including Ohio, Utah, and New Hampshire, took similar actions
West Virginia distributes four brands of Russian liquor: Russian Standard, Beluga Vodka, Moskovskaya, and Hammer & Sickle Russian Vodka.
Click here to read more from WVMetroNews.
Senate bill outlines state Auditor's duties
The Senate Judiciary Committee on Tuesday passed a strike-and-insert amendment for SB552, which relates to the delinquent tax sale process.
It shortens the process to no longer than two years, seven months and provides a preference list of buyers, including adjacent landowners, municipalities, county commissions, land banks, land reuse agencies, and others. DEP is authorized to assist municipalities and counties with dilapidated properties.
Attorney Hampton Rose, who has been assisting the Auditor's Office with the bill, told the Committee that certain objectives have to be accomplished before the tax sale purchaser becomes the owner. He assured Senator Robert Karnes of Randolph County that none of the preferential list of buyers could hold up sales indefinitely.
The role of the Sheriff's tax sale has been entirely delegated to the Auditor after the preparation of the list of delinquent properties, publication notice, and letter to the delinquent taxpayer.
Senator Karnes asked why the change is being made to the traditional role of the Sheriff. Mr. Rose said the current two-step process where the Sheriff sends any lands that received no bids to the Auditor can be accomplished in one step.
Chairman notes how killer was caught
On Monday, during a Senate Judiciary Commission discussion of a bill that would require DNA samples to be put into a data base for certain arrestees, Chairman Charles Trump referred to the Golden State Killer case that was solved after many years by the use of genetic genealogy.
Joseph James DeAngelo Jr., a former police officer, committed at least 13 murders, 50 rapes, and 120 burglaries across California between 1974 and 1986.
Chairman Trump pointed out that using genetic genealogy is becoming standard in trying to solve cold cases.
During the decades-long investigation, several suspects were cleared through DNA evidence, alibi, or other investigative methods.
DeAngelo operated in different areas and was given different nicknames in California, but in 2001, DNA testing indicated that the "East Area Rapist" and the "Original Night Stalker" were the same person.He was given the name Golden State Killer in early 2013.
On June 15, 2016, the FBI and local law-enforcement agencies held a news conference to announce a renewed nationwide effort, offering a $50,000 reward for the Golden State Killer's capture.
On April 24, 2018, authorities charged 72-year-old DeAngelo with eight counts of first-degree murder based upon DNA evidence. Investigators had identified members of DeAngelo's family through forensic genetic genealogy.
Chairman Trump mentioned that a family member had provided law enforcement with a piece of trash that had been handled by DeAngelo, and the DNA on it was a match.
On June 29, 2020, DeAngelo pleaded guilty to multiple counts of murder and kidnapping. As part of a plea bargain that spared him the death penalty, DeAngelo also admitted to numerous crimes with which he had not been formally charged, including rapes On Aug. 21, 2020, DeAngelo was sentenced to life imprisonment without the possibility of parole.
Here is a list of approved legislation
The Legislature posted information on Monday about legislation it had passed. The list notes legislation the Governor has signed.

SB4: Repealing ban on construction of nuclear power plants (Signed, 02-08)

SB8: Relating generally to state's savings and investment programs (Signed, 02-02)

SB191: Allowing poll workers to work full and half days (Signed, 02-02)

SB221: Establishing occupational therapy compact (Completed; awaiting action by Governor)

SB244: Relating to appointment of judges to Intermediate Court of Appeals (Signed, 02-09)

SB279: Authorizing DEP to promulgate legislative rules (Signed, 02-21)

SB435: Awarding service weapon to retiree from Division of Protective Services (Signed, 02-16)

SB436: Correcting code citation for authority of State Fire Marshal (Signed, 02-18)

SB437: Providing for early discharge of parolees (Signed, 02-16)

SB445: Modifying police and firemen's pension plans for trustees (Completed; awaiting action by Governor)

SB449: Relating to Nonviolent Offense Parole Program (Signed, 02-16)

SB450: Updating definitions of WV Personal Income Tax Act (Signed, 02-21)

SB451: Updating definitions of WV Corporation Net Income Tax Act (Signed, 02-21)

SB452: Permitting civil remedies for unauthorized disclosure of intimate images (Completed; awaiting action by Governor)

SB639: Providing 45-day waiting period on rate increases when water and sewer services are purchased from municipality (Completed; awaiting action by Governor)

HB2325: Removing the requirement of continuing education for barbers and cosmetologists (Signed, 02-21)

HB3312: Establishing a memorial to child labor and child workers who died in the course of employment in this state (Signed, 02-28)

HB3220: Restrictions on Taxpayer funded lobbying (Completed; awaiting action by Governor)

HB3303: Relating to clarifying the process of filling vacancies on ballots (Completed; awaiting action by Governor)

HB4024: Creating a cosmetology apprentice program that allows companies to train employees for practical real-world experience (Signed, 02-23)

HB4048: WV Keep, Bear and Drive with Arms Act (Completed; pending action by Governor)

HB4060: Repealing outdated sections of code relating to health (Completed; awaiting action by Governor)

HB4062: Removing the residency requirement for the Commissioner of the Division of Highways (Signed, 02-21)

HB4067: To make certain agency reports electronic or eliminating certain agency reports altogether (Signed, 02-23)

HB4074: Require schools provide eating disorder and self-harm training for teacher and students (Signed, 02-21)

HB4114: Authorizing certain agencies of the Department of Administration to promulgate legislative rules (Completed; awaiting action by Governor)

HB4264: Change designation of Glenville State College to "Glenville State University" (Signed, 02-23)

HB4276: WVU to create a Parkinson's disease registry (Signed, 02-23)

HB4299: To prohibit the intentional interference with election processes and creating associated criminal penalties (Completed; awaiting action by Governor)

HB4301: Reforming membership requirements of Huntington Park and Recreation District Board (Signed, 02-16)

HB4308: Authorizing disclosure of juvenile information to Crime Victims Compensation Fund for investigation and award of benefits (Completed; awaiting action by Governor)

HB4312: Extending the option of electronic absentee ballot transmission to first responders in certain emergency circumstances (Completed; awaiting action by Governor)

HB4369: Update the telepsychology compact (Completed; awaiting action by Governor)
Access to some of the stories in From The Well may require a subscription to that news outlet. H2C Public Policy Strategists has no control over the terms and conditions other news outlets set to access their content.
Click here

for the full session calendar

of the 85th West Virginia Legislature.
Some information in this update is collected from the WV Legislature's Daily/Weekly Blogs.
Hartman Harman Cosco, Public Policy Strategists, LLC, (H2C) is a strategically assembled bipartisan lobbying firm comprised of legal, communications and policy professionals. H2C possesses the insight and intuition that only comes from decades of hands on experience leading community and statewide initiatives.