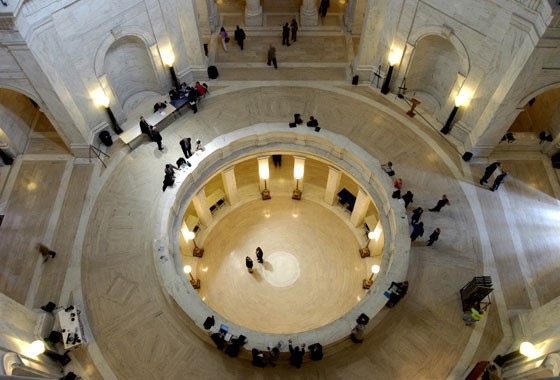 From The Well
Day 44
At the center of the West Virginia state Capitol is an area known as The Well.
It is the informal gathering place for lobbyists, reporters, constituents and lawmakers.
Centrally located between the chambers of the House of Delegates and Senate,
The Well is often where information is shared, alliances are formed, and deals are made.
Panel to consider bill on pretrial diversion
An originating bill on the agenda Thursday relates to pretrial diversion and deferred adjudication. Prosecutors and the domestic violence community proposed the bill.
Chairman Charles Trump of Morgan County indicated he was not going to move the bill immediately but was having it presented to the committee for informational purposes only. It is scheduled to be on the Friday agenda.
Committee tables alcohol-related legislation
The Senate Judiciary Committee on Thursday debated SB659, which relates to nonintoxicating beer, wine, and liquor licenses and requirements. Ultimately, the Committee tabled the bill.
The bill includes amendments to several provisions of the law regulating beer, wine, and liquor.
Some of those changes included in the legislation involve clarifying provisions of the current law that have been misconstrued to require beer and wine to be bagged at the time of a retail sale to a consumer. Also, the bill includes the repeal of a requirement that alcohol may not be sold with 300 feet of a church or school. It also creates several new licenses.
An issue that resulted in a great deal of discussion involved an increase in the minimum retail markup by 5%. After considerable discussion on the contents of a staff-suggested Committee Substitute and several amendments to the Committee Substitute, the Committee rejected the Committee Substitute in an 8-8 vote.
The result of the failure to adopt the Committee Substitute means the introduced bill was before the committee for consideration. After several members of the Committee indicated an interest in amending the introduced bill, the Committee voted to table the proposed legislation.
Committee supports cameras in work zones
The House Judiciary Committee had a lengthy discussion Thursday about HB4595, which adds a new section of code to establish a program for camera-assisted speed enforcement in active work zones in West Virginia.
The bill authorizes the Commissioner of Highways to set speed limits in work zones on public highways and establishes use of work-zone speed control systems as an exception to the prohibition against photo-monitoring devices for traffic law enforcement.
The sponsor, Delegate Josh Booth of Wayne County, answered several questions and said his bill arose out of being hit himself. He said the bill simply started the process, and it would be perfected when stakeholders write the rules.
Delegates who spoke against it lauded the intent but were concerned about "following the communist state of Maryland" or "living in a creepy, 24/7 surveillance state."
Delegate Joey Garcia of Marion County spoke in favor of the bill, referring to the construction zones on I-79, where drivers are speeding through two-lane construction zones.
Delegate Tom Fast of Fayette County also spoke in support, saying electronic surveillance has a deterring effect. The bill passed 13-11 on a hand count.
Committee OKs bill allowing test strips
The House Judiciary Committee on Thursday passed Committee Substitute for HB4373, which came to them from the House Health & Human Resources Committee.
The bill would exclude fentanyl test strips from the definition of drug paraphernalia. Current law includes fentanyl test strips as drug paraphernalia.
Committee Counsel was asked where these fentanyl strips can be purchased.
"I looked it up and found them on Amazon," counsel said. He further explained that fentanyl test strips can give an immediate reading that fentanyl is present in some substance that a person might have.
The concern is that a person may purchase marijuana or another substance and be unaware that it was cut with fentanyl, which can be deadly.
Delegate Mike Pushkin of Kanawha County spoke in favor of the bill, saying it will save lives.
Delegate Bryan Ward, a former Sheriff from Hardy County, agreed with Delegate Pushkin that this was almost a pre-emptive bill in its potential to save lives.
Delegate Tom Fast of Fayette County read a list of several states that currently define fentanyl strips as drug paraphernalia, but Delegate Pushkin countered, pointing out West Virginia leads those states in drug overdoses so "maybe we should be number one in helping to prevent them."
Bill clarifies law on explicit material
While bills can no longer be introduced, they can still be originated. The House Judiciary Committee originated and passed a bill Thursday that relates to the distribution and exhibition of material depicting minors engaged in sexually explicit conduct.
Counsel said the bill clarifies an implied exception for the performance of official duties by law enforcement or prosecuting attorneys.
Shares revised for counties, municipalities
The House Judiciary Committee passed Committee Substitute for HB2136, which would grant counties and municipalities an equal portion of the net terminal income from racetrack video lottery terminals.
Currently, counties get 2% from the racetrack video lottery terminals. The law originally provided that anything above 2% would be shared with municipalities. In actuality, revenue never exceeded 2%, so the bill will allow counties and municipality or municipalities to split the 2% revenue.
Committee members debate bill's details
A lengthy discussion ensued Thursday in the House Judiciary Committee on HB4011, which would establish the Anti-Stereotyping Act.
The bill affects state public schools and public charter schools and provides that training, instructional, or curricula materials be displayed on the public school, county board, or public charter school website provided that reproduction does not infringe copyrights.
The bill provides that county boards, public schools, public charter schools, and their employees shall not, in the course or scope of employment, promote, embrace, or endorse stereotypes.
It ensures that the county board, public school, or charter school does not require or compel a student, teacher, administrator, or other employee to affirm, adopt, or adhere to any certain beliefs or concepts and preserves free-speech protections.
The bill's provisions center around eight factors: nondiscrimination, diversity, equity, inclusion, race, ethnicity, sex, or bias, or any combination of those concepts with other concepts.
Delegate Lisa Zukoff of Marshall County asked how someone would measure "requires or compels." Counsel replied that it is not defined in the bill.
Delegate Mark Zatazelo of Hancock County asked whether history could be taught or whether there's anything that says it must be taught a certain way.
Counsel responded that it is not addressed but noted there are ways that one could teach history that would violate this bill.
Delegate Chad Lovejoy of Cabell County asked Committee Counsel whether the bill would prohibit the questioning of the "moral character" of Nazis or slaveowners. Counsel responded that drawing conclusions about history may conflict with the bill.
Delegate Lovejoy made several points about the amount of work the bill placed upon school boards for reviewing all training materials for students and all materials for teacher training for the eight factors or combination thereof that might be present in the materials. The bill does not provide any guidance or direction for the training analysis, but it does require that all instructional materials and curricula, including textbooks, be reviewed.
Todd Gaziano, representing the Pacific Legal Foundation, was called upon to testify about the bill. He said the bill is consistent with the enumerated factors in federal law. He explained by saying a teacher can condemn Nazis because they are not a whole race but cannot say "all whites" have moral failings or are oppressors.
He expressed support for the bill, saying, "No state I know of has such a narrowly tailored bill."
In response to Mr. Gaziano, Delegate Tom Fast of Fayette County noted that many historical documents have references to the Bible and are based upon Christian faith.
"Would that be prohibited?" asked Fast.
Mr. Gaziano responded that historical influences would have no effect on what a teacher could teach.
After a brief discussion of who funds the Pacific Legal Foundation, the committee adjourned for the 5 p.m floor session and will continue the discussion Friday.
Click here to read a story from the Charleston Gazette-Mail.
House approves exemptions to limiting CON
One day after rejecting several amendments aimed at stripping most of West Virginia's certificate-of-need program from state code, the House of Delegates passed two bills Wednesday providing exemptions for two kinds of health care facilities.
In a 61-38 vote, the House passed HB4607, removing opioid treatment programs from requiring a certificate of need.
The House passed 86-11 HB4643, exempting birthing centers from certificate of need. Both bills will go to the state Senate.
Click here to read more from the Parkersburg News and Sentinel.
House passes bill to raise state worker pay
West Virginia lawmakers have passed a bill that would give pay raises to workers in the state's foster care system.
The House of Delegates-passed bill would give at least 15% raises to all caseworkers and other staff who work directly with families and children.
Delegate Jonathan Pinson of Mason County said the West Virginia Department of Health and Human Resources has a statewide vacancy rate of 30%.
Click here to read more from WTRF-TV. Click here to read the WVMetroNews story.
Bill gives university status to Glenville State
The West Virginia Legislature passed legislation Tuesday passed to designate Glenville State College as Glenville State University.
HB4264 follows the decision in December by the Higher Education Policy Commission to grant university status to the school. Criteria for university status includes offering at least one master's-level degree program, a mission statement that provides for graduate programs, approval by the Commission to offer any master's program, and for at least two-thirds of tenured faculty to hold the terminal degree, typically a doctorate.
Click here to read more from the Parkersburg News and Sentinel.
Access to some of the stories in From The Well may require a subscription to that news outlet. H2C Public Policy Strategists has no control over the terms and conditions other news outlets set to access their content.
Click here

for the full session calendar

of the 85th West Virginia Legislature.
Some information in this update is collected from the WV Legislature's Daily/Weekly Blogs.
Hartman Harman Cosco, Public Policy Strategists, LLC, (H2C) is a strategically assembled bipartisan lobbying firm comprised of legal, communications and policy professionals. H2C possesses the insight and intuition that only comes from decades of hands on experience leading community and statewide initiatives.