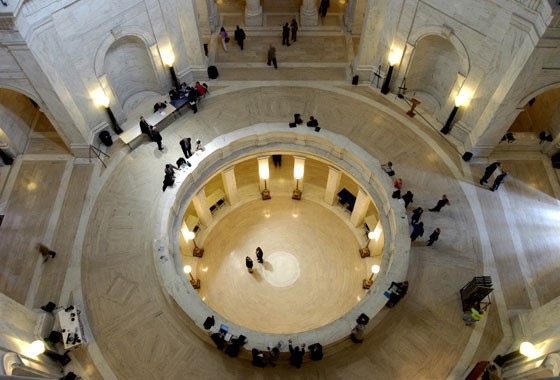 From The Well
Day 30
At the center of the West Virginia state Capitol is an area known as The Well.
It is the informal gathering place for lobbyists, reporters, constituents and lawmakers.
Centrally located between the chambers of the House of Delegates and Senate,
The Well is often where information is shared, alliances are formed, and deals are made.
Groups unite to restore voting rights
Americans for Prosperity West Virginia, ACLU of West Virginia, and Secure Democracy USA announced on Thursday their support of two bills that would restore voting rights to individuals with past convictions.
The politically diverse organizations are unified in their support of SB488 and HB4543 and submitted a letter to lawmakers urging passage of the bills during the 2022 legislative session.
The legislation would restore voting rights to formerly incarcerated individuals by eliminating restrictions on voting once an individual is released from incarceration through pardon, probation, parole, or completion of a sentence.
If passed, West Virginia would join 21 other states — including Ohio, Pennsylvania, Utah, and Indiana — in restoring voting eligibility to citizens with past convictions upon their release from prison.
Opinion: CPS deficiencies too much to accept
J. Damon Cain, editor of The Register-Herald in Beckley, published an opinion piece this week. Here is an excerpt from his commentary:
Two years ago, Gov. Jim Justice touted his plan to fix the state's troubled child welfare system. There simply were not enough people, the governor said, to serve the glut of children in state custody or under its supervision. So, the governor proposed that the state hire 87 new social workers, and that in and of itself would fill many of the gaps the kids were falling through.
Now, as reported by Mountain State Spotlight earlier this year, the CPS' worker vacancy rate is nearly double what it was when Justice made his pledge to fix the system. But the issue is nothing new as the state has struggled with its CPS vacancy rate for decades, and there are 71 percent more children in state custody now than there were a decade ago.
Click here to read more from The Register-Herald.
Click here to read more from Mountain State Spotlight.
Click here to read the Post Audit Division's report on Child Protective Services.
Handle with Care program advanced
The House Judiciary Committee on Thursday passed HB4578, which is intended to ensure the State Police, through its West Virginia Center for Children's Justice, oversees and administers the state's Handle with Care program.
Major Shallon Oglesbay, speaking on behalf of the State Police, said training is offered across the state and country and is a "flagship program." Training is available for all law enforcement and others to help protect children who are involved with a call for law enforcement, such as a domestic violence call.
The program makes sure children are provided resources.
"We want to strengthen the program and have greater utilization," Major Oglesbay said. "We keep stats to know where we need to do more. This bill will help."
Legislation addresses foster care requests
A strike and insert for HB4308 passed the Senate Judiciary Committee Thursday. It would broaden the class of persons who may apply on behalf of a child in foster care or is a subject of a civil abuse-and-neglect petition.

The bill authorizes law enforcement, guardians, court, and public agency personnel to disclose information and records for the purposes of evaluating for Crime Victims' Compensation Fund benefits.
Senate panel wrestles with negotiated rates
The Senate Committee of Health and Human Resources on Thursday considered SB574, a bill to require the PEIA plan to reimburse hospitals that provide inpatient care to a nonmandatory permissive participant beneficiary at rates negotiated between the hospital and the plan.
Nonmandatory permissive participants are employees of political subdivisions of the state.
Currently, hospitals are not permitted to negotiate with providers for in-person services. The bill would separate state employee participants from non-state employee participants. For those non-state participants, PEIA would be authorized to negotiate rates with in-patient providers.
The bill would result in an increase in premiums charged to political subdivisions that participate in PEIA.
Jason Haught, Interim Director of PEIA, told the committee about the current circumstances and how the bill is likely to impact premiums charged to political subdivisions.
Daniel Lauffer, President and CEO of Thomas Health Systems, was asked about the low reimbursement rates paid by PEIA and the fiscal impact they have on hospitals.
Susan Economou, Deputy Executive Director of the West Virginia Municipal League, was asked about the potential impact of the bill on municipalities. She indicated that members of her organization were concerned that there are no caps on amounts that might be negotiated between hospitals and PEIA.
Senators Ron Stollings and Richard Lindsay expressed concern on behalf of political subdivisions that are likely to see increases in health insurance costs.
Chairman Michael Maroney and Senator Tom Takubo argued that employees of political subdivisions already are paying less in premiums than those insured by commercial insurance companies.
Jim Kaufman of the West Virginia Hospital Association was asked by Senator Robert Plymale about whether hospitals are refusing to accept PEIA because of low reimbursement rates. He said he was unaware of that occurring presently. Mr. Kaufman reiterated the significant impact the inability to negotiate with hospitals has on the fiscal stability of hospitals.
Senator Stollings expressed concern that the bill, which will affect only a small percentage of persons insured by PEIA, will have only a small impact on hospitals but a potentially a significant impact on political subdivisions. He also expressed concern that it diverts attention from the real problems with PEIA.
Senator Stollings tried to amend the bill by extending the ability of PEIA to negotiate rates on behalf of all PEIA participant beneficiaries, nonmandatory permissive, and mandatory.
During discussion of the amendment, it was revealed the amendment increased the fiscal impact on PEIA by a factor of four. The amendment was defeated on a voice vote.
The bill was recommended for enactment by a voice vote. It will now go to the full Senate for consideration.
School personnel dismissals examined
The House Judiciary Committee on Thursday reviewed Committee Substitute for HB4562, which clarifies the process of the suspension and dismissal of school personnel by board and the appeals process.
Upon the beginning of an investigation of a school employee involving conduct alleged to jeopardize the health, safety, or welfare of students, or the learning environment of other students, whether being conducted internally or in cooperation with police or the Department of Health and Human Resources, the bill says the affected employee shall be placed on suspension, administrative leave, or reassigned to duties that do not involve direct interaction with pupils.
A representative from the state Department of Education gave an example that reassignment could be to the central office and explained that much of the bill codifies current practice. The Committee passed an amendment that changed a two-day reporting requirement to 24 hours. An amendment failed that would remove the option of reassignment. The bill passed as amended.
Bill seeks to simplify probate process
The House Judiciary Committee offered amendments Thursday to last year's Small Estate Act, which is intended to simplify the probate process for estates of less than $100,000.
Committee Substitute for HB4329 made several changes to the introduced bill, which originally was intended to clarify the definition of an "interested person."
Changes included adding a definition of "small estate," clarifying the definition of person, and adding an additional sentence that excludes a situation where a decedent leaves in the will the direction to sell property.
Mark Adkins, Executive Director of the Community Bankers' Association, provided an example that when people try to sell property in an estate filed under the Small Estates Act, they were told by the bank they couldn't convey title. The language added to Committee Substitute clarifies that a will directing property to be sold supersedes the Small Estate Act.
Delegate Tom Fast of Fayette County objected to the definition of "interested person" language that stated the definition "varies from time to time." He said it's too ambiguous, stating, "We just can't put something like that into code."
The amendments to remove that language and also to change devise to direct for the selling of property both passed. The bill passed as amended.
Committee reviews involuntary commitment
House Health & Human Resources Chairman Matthew Rohrbach announced Thursday that there are many proposed amendments to HB4377, which updates the involuntary commitment process.
A Committee Substitute will be presented to the committee on Tuesday.
Staffing plans requirements proposed
After a roll-call vote, a strike and insert for HB4351 passed the House Health Committee with 21 yes votes and no nays. It would ensure that staffing plans are sent to the state health office, as well as the Department of Homeland Security.
It creates a new section to create the Patient Safety & Transparency Act. A staffing plan to be sent to the Office of Health Facility Licensure and Certification, the West Virginia Department of Health and Human Resources, and the West Virginia Department of Homeland Security.
A spokesperson for Monongalia General Hospital said it has a system very much like what the bill creates.
Bill targets provider-sponsored networks
HB4426 would repeal the article providing for provider-sponsored networks.
Counsel explained that provider-sponsored networks are health care delivery networks owned and operated by providers.
Delegate Mick Bates of Raleigh County asked several questions, including what the result of the repeal would be. Counsel responded that repeal of the article prohibits future provider-sponsored networks from being established and clarified that those networks sell an insurance product.
Committee considers telemedicine rules
The Senate Judiciary Committee had a lengthy discussion Thursday on Committee Substitute for SB371, which involves telehealth rules and a provision requiring an in-person visit after 12 months.
Kyle Zebley, representing the American Telemedicine Association, expressed concern that there should not be in-person requirements in the practice of telehealth.
"States are removing these requirements," he said. "Adding in-person requirements will lessen the options for care in West Virginia."
Will Swann, representing Teladoc Health, said the in-person requirement would make West Virginia an outlier in telehealth and would increase health care costs.
Mark Spangler, representing the West Virginia Board of Medicine, said the rule is in line with the intent of the bill.
The rules bill passed, but Chairman Charles Trump of Morgan County recommended the committee originate a bill Monday because of the lack of clarity in the statute and to make sure the rule syncs up with intent of statute.
House bill supports geothermal development
The House of Delegates on Thursday passed HB4098, which lays out provisions to explore more geothermal energy development.
Delegates approved the bill 96-2. The bill now goes to the state Senate.
Passage of the bill is the latest development in a session when lawmakers have removed a longtime ban on nuclear energy production. The House today also approved a resolution urging support for hydroelectric power production at the Summersville Dam.
Click here to read more from WVMetroNews.
Bill clarifies auto dealership language
The House Judiciary Committee spent more than an hour Thursday in discussion before passing Committee Substitute for HB4560, which relates to vehicle dealers, distributors, wholesalers, and manufacturers.
The bill primarily clarifies governing law between manufacturers and dealerships.
A representative of the West Virginia Auto Dealers Association said the U.S. has had a franchise system in place for dealerships for more than 100 years, and the proposed bill would help keep "local places local."
Bill relaxes loaded weapon regulations
The Senate Judiciary Committee passed a strike and insert for HB4048, which creates the West Virginia Keep, Bear, and Drive with Arms Act, changing the bill as the House passed it to a simple elimination of the prohibition of carrying a loaded long gun or having it uncased in a vehicle.

The original bill created a "totality of circumstances" test that was difficult for law enforcement. Counsel explained the strike and insert simply removes the prohibition altogether.
Access to some of the stories in From The Well may require a subscription to that news outlet. H2C Public Policy Strategists has no control over the terms and conditions other news outlets set to access their content.
Click here

for the full session calendar

of the 85th West Virginia Legislature.
Some information in this update is collected from the WV Legislature's Daily/Weekly Blogs.
Hartman Harman Cosco, Public Policy Strategists, LLC, (H2C) is a strategically assembled bipartisan lobbying firm comprised of legal, communications and policy professionals. H2C possesses the insight and intuition that only comes from decades of hands on experience leading community and statewide initiatives.